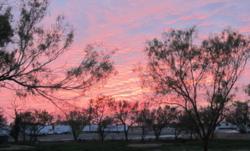 It's relaxing here, and quite frankly just amazing
Carrizo Springs, TX (PRWEB) January 30, 2013
Ventana Creek announces that it has officially opened doors for business. In early January 2013, the company began leasing Phase 1 of its overall master planned development. This first stage of development consists of a recreational vehicle park and workforce cabin community aimed at fulfilling the growing need for temporary housing in the Eagle Ford shale.
This new community in Carrizo Springs offers a quiet and relaxing atmosphere where workers and their families can enjoy themselves after a hard days work. Designed by CS1 Development, this community offers something outside the ordinary. Spread out over 32 acres of land, Ventana Creek has plenty of space for quiet enjoyment in a wooded setting, but within a stone's throw away from all the major restaurants, retail and commercial activities just down Highway 83. With trees and landscaping throughout the park, Ventana Creek has truly raised the bar for workforce lodging in South Texas and current residents are expressing their enjoyment all around.
Phase 1 of this large project will now consist of 25 to 50 furnished RVs for temporary rental, 25 to 45 RV parking spaces, 35 or more one and two bedroom cabins and several creek houses. Management made a statement by saying "We are excited about opening our doors for business and will be hosting a grand opening in the near future. As soon as our first set of cabins arrive, we want our residents to interact with the entire community at a local level. Surely it is a very exciting time at Ventana Creek, and while we are expanding residents can expect much more to come on all levels".
Indeed things at Ventana Creek have already started off on the right track. Compared with other projects in the area, this lodging community offers everything one expects at a fraction of the cost with even better things yet to come. With even the efficiency units offering free high-speed Wi-Fi Internet, DirecTV, large HD TVs, pillow-top mattresses, extra large pillows, fully equipped kitchens, weekly maid service and free ice at no extra cost, one is only to expect that the much discussed and well-appointed cabins will arrive with a bang.
Management went on to say, "At Ventana Creek, it's all about comfort. Space, privacy and comfort are what we are all about. It's what you can expect here. And with all the major amenities, we got you covered. Our goal is not to overcharge renters as others are doing, but give you a lot more while also leaving more change in your pockets. It's that simple."
For more information on the lodging community, please visit http://www.ventanacreek.com or call the friendly leasing staff at 830-255-4815 today!