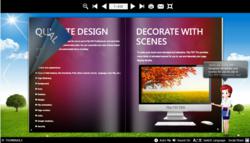 This platform will help us to serve the global customers better.
(PRWEB) January 29, 2013
Today, FlipPageMaker.com, a leading flipbook software supplier, proudly announce its multi-lingual platform to provide a better experience for the customers from all over the world. Now, the company is offering their softwares in 52 languages.
The multi-lingual platform uses translation software to translate the words into different languages, such as English, French, German, Japanese, and so on. With some clicks of a mouse, users can read in their mother languages.
"This platform will help us to serve the global customers better," said Jason Chen, CEO of FlipPageMaker.com. "We launch the platform in many languages to meet the needs of different customers from different countries, and attract more potential customers as well."
Thomson, a customer from Dubai, said, "I am so happy to visit the website in Arabic! I know their softwares are very popular, and I want to buy a flipbook creator from their online shop. However, I always have troubles when reading the descriptions and placing an order. Now, I can read it in Arabic, and everything is easy!"
In addition to the multi-lingual platform, FlipPageMaker.com has recently released its new collection of flip book maker products, which can convert all kinds of document formats (like Word, PowerPoint, Images, and so on) to flipping books.
Jason Chen stated, "Flipping book has been so popular in these years, and we hope our multi-lingual platform and products can help the people from all countries to improve their working efficiency and create flipping books with a better visual effect more quickly and easily."
About FlipPageMaker.com
Founded in 2008, FlipPageMaker.com is a leading online store that offers a full range of flipbook softwares. The store has a group of software engineers who can always create functional and handy designs for customers all over the world.