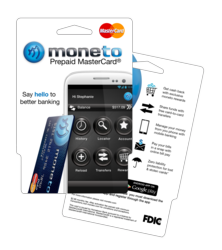 We are very excited and proud that our work and dedication to innovation has been recognized by Paybefore in the Outstanding Mobile Wallet and Application category.
Richardson, TX (PRWEB) January 29, 2013
Paybefore has chosen the moneto Prepaid MasterCard® by DeviceFidelity as a 2013 Paybefore Awards winner in the Outstanding Mobile Wallet and Application category. Paybefore Awards, now in its seventh year, is the most prestigious recognition of excellence in the worldwide prepaid and emerging payments industry. The awards are presented annually by Paybefore, whose publications are the leading source of industry information for alternative payments executives.
"We have been working to create a prepaid solution that gives consumers the financial service solutions they want while incorporating a truly dynamic and easy to use mobile application that provides complete one touch access to features like instant cash back rewards, card to card transfers, transaction history and of course mobile payments," said Youri Bebic, General Manager Prepaid Card Services for DeviceFidelity. "We are very excited and proud that our work and dedication to innovation has been recognized by Paybefore in the Outstanding Mobile Wallet and Application category."
The moneto prepaid MasterCard was selected by a panel of five industry experts who served as judges for this year's competition, which—once again—included a record number of entries from around the world.
"Paybefore Awards were created to honor the companies and individuals, that are at the forefront of innovation as well as successful market implementation across the globe," said Loraine DeBonis, Paybefore editor-in-chief and chair of the judging panel. "It's a dynamic time in electronic payments as companies like moneto and MasterCard continue to innovate to solve payments problems," she continued. "We are proud to recognize their contributions to advancing the prepaid and emerging payments industry."
"As the world changes, so do the payment and money management needs of individuals, businesses and government agencies," added Marilyn Bochicchio, Paybefore's CEO. "Paybefore Awards recognizes the organizations that use financial services to make people's lives better, which is why it is so exciting for us to honor those who champion innovation and excellence such as moneto."
The moneto prepaid MasterCard is redefining the prepaid market. Compatible with iPhone and Android, it comes equipped with a feature rich mobile application that allows users to easily access, manage, and use their prepaid card right from their mobile phone. moneto also has an optional mobile payment feature that enables the iPhone or Android for contactless transactions using MasterCard® PayPass™. Customer favorites like instant Cash Back, Card to Card Transfers and Bill Pay can be accessed online or through the mobile app.
The moneto prepaid MasterCard now will vie for Best-in-Category distinction, which will be announced during the Paybefore Awards ceremony on March 4 at the Prepaid Expo (http://www.prepaidexpousa.com). And for the first time in Paybefore Awards history, visitors to Paybefore.com will have a chance to vote on Best in Category. The outcome of this vote (counted as one-sixth of the total) will be combined with the five judges' picks to determine Best-in-Category honorees.
About moneto:
moneto is a convenient and feature-rich prepaid MasterCard that is redefining the way we bank. With online management tools to help you stay on top of it all and a complete mobile app that gives you simple one touch access to your account and all its amazing features. Use moneto where debit MasterCard is accepted worldwide. moneto is based on In2Pay® technology developed by moneto parent, DeviceFidelity, Inc. and is available in the US and UK. For more information on moneto in the US visit moneto.com and for the UK visit moneto.co.uk, follow us on Twitter @moneto_me or at facebook.com/monetome
About DeviceFidelity
DeviceFidelity, Inc. develops plug-and-play technologies that empower a variety of institutions to deploy their services and applications on millions of mobile phones worldwide. Its patented In2Pay® microSD and In2Pay iCaisse solution transform popular mobile phones into an interactive contactless transaction device. Committed to bringing contactless innovation to the mobile phone, the company launched moneto, the world's first multi-platform mobile wallet in the US. DeviceFidelity is a private corporation with headquarters in Richardson (Texas) and offices in San Mateo (California), London (United Kingdom) and Aix-En-Provence (France). For more information visit devicefidelity.com, follow us on Twitter @devicefidelity and at facebook.com/DeviceFidelity.
About Paybefore: Paybefore is the leading information provider to prepaid and emerging payments industry professionals, offering the latest news, commentary and analysis. Paybefore's family of industry publications includes: Paybefore.com; Paybefore News; Paybefore Mobile™; Paybefore News International™; Paybefore Update™; Paybefore Legal™; Paybefore Magazine™, a biannual print publication featuring in-depth articles on the opportunities, challenges and trends in the global prepaid and emerging payment industry; and the only industry directory, Paybefore Buyer's Guide Connections™, available online and in print. Visit us at http://www.paybefore.com.