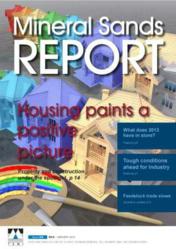 the feature covers developments in the industry in China as well as economic growth forecasts
(PRWEB) January 31, 2013
TZ Minerals International (TZMI) is pleased to announce the release of the first edition of Mineral Sands Report (MSR) for 2013. Published monthly, MSR covers all aspects of the titanium minerals, TiO2 pigment and zircon industries and provides up to date news, analysis, pricing and data.
In edition 206, TZMI takes a look at the global macroeconomic environment and how the titanium and zircon sectors are likely to fare in 2013. With 2012 ending with softness across the titanium value chain and zircon continuing its decline which began more than a year ago, the feature covers developments in the industry in China as well as economic growth forecasts and how this will impact on supply and demand in the coming year.
In this month's Industry Insight, TZMI examines the global property outlook, with regional analysis, as the property market is often seen as a bellwether for the titanium dioxide pigment industry. Pigment producers and prominent coatings manufacturers also provide comment on growth prospects for the sector from both perspectives.
A quarterly update on TiO2 feedstocks shows pricing weakness observed in some products in Q2 2012 continuing into Q3 2012. The review across supply, demand and pricing takes into account the impact of de-stocking by TiO2 pigment producers and what can be expected in 2013.
TiO2 Feedstock, TiO2 Pigment and Zircon pricing for the last six months is covered as it is in every issue, along with a wrap up of the latest news and import statistics out of China, provided by TZMI's Shanghai team.
MSR is the only comprehensive global review supplied to the industry on a regular basis. If you would like more information about how to order TZMI's Mineral Sands Report please visit http://www.tzmi.com
About TZMI
TZ Minerals International (TZMI) is a global, independent consulting and publishing company with offices in Australia, China, the US and South Africa. The strength of TZMI's consulting services stems from extensive practical experience in the mineral sands, titanium dioxide and coatings industries and from a comprehensive database, which has been built up over many years.
TZMI has proven expertise gained from our consultants having many years of direct operating experience in the industry in chief executive, senior operational, analytical and marketing roles.
TZMI's publications and data services support the consulting activities and ensure up-to-date, high quality and comprehensive data, analysis and information across the mineral sands, zircon and TiO2 pigment industries.
TZMI provides operational and technical expert advice on many areas including:

Mergers and Acquisitions
Market Assessments and industry analysis
Due diligence
Pre-feasibility studies incl. preliminary capital and operating cost estimation
Competitive cost analysis and benchmarking
Technical reviews and audits
Resource assessments
Physical separation test work
Flowsheet development
Customised data analysis and reporting