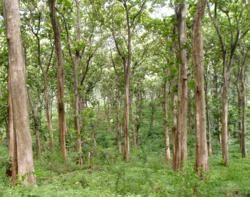 New EU Timber Regulation is good news for the Teak industry, legitimate traders, local people and the environment.
Basingstoke, Hampshire (PRWEB UK) 31 January 2013
Chic Teak, a leading supplier of outdoor teak garden furniture welcomes the forthcoming EU Timber Regulation that will prohibit the placing of illegally produced wood products on the European Market from 3rd March 2013.
The European Union was so concerned about the serious, economic and social consequences of illegal logging they published the The Forest Law Enforcement, Governance and Trade (FLEGT) Action Plan in 2003.
The Action Plan sets out a range of measures available to the EU and its Member States to tackle illegal logging in the world's forests and encourage long-term sustainable forest management. These measures will prevent the illegal import of wood into the EU, improve the supply of legal timber and help increase the demand for wood coming from responsibly managed forests.
Chic Teak has always sourced its teak garden furniture, including dining tables, chairs and benches from Indonesian government controlled plantations but no legislation had previously existed to prevent unscrupulous loggers and manufacturers from exploiting the market to the detriment of their local forests. This means the new action is incredibly good news for the industry, legitimate traders, local people and the environment. Other wood product suppliers in the EU may have been less honourable in the past and unwittingly been purchasing teak products from unscrupulous suppliers. Their actions created profitable markets for illegal loggers, and have undermined the efforts to enforce forest law in many of the wood-exporting countries.
Under this new FLEGT Action plan, countries such as Indonesia, who wish to place timber in the EU must enter into a bilateral FLEGT Voluntary Partnership Agreement (VPA) with the EU. Under its regulations wood suppliers must obtain a licence from their local government to verify the legality of their timber exported to the EU whilst unlicensed products will be denied entry.
Chic Teak suppliers are currently going through the licence approval process to ensure that they comply with the terms as laid out in the FLEGT Action Plan and every container of wooden products that leave the country is approved.
Chic Teak Managing partner, Robert Bowden commented: "We are delighted that the EU is taking this tough action against illegal logging and making it difficult for a manufacturer to supply teak furniture using illegally logged wood. Now our customers can be assured that we only supply furniture from producers that comply with EU Timber Regulations, local Indonesian law and act responsibly towards local people and the environment.
For more information on Chic Teak and their bespoke tree benches, visit their website at http://www.chic-teak.co.uk/ or telephone 0845 390 5000.
About Chic Teak
Successfully trading in ethically-sourced, sustainable teak from Government controlled plantations for over 14 years, Chic Teak creates high quality wooden garden furniture and teak garden furniture sets. They pride themselves on their quality, personal service alongside highly competitive pricing and fast delivery.