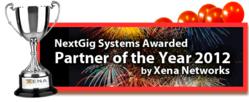 NextGig has leveraged their reputation and extensive network to promote Xena as a cost-efficient alternative to the current market leaders.
Copenhagen (PRWEB) January 31, 2013
Xena Networks, the global leader in Gigabit Ethernet Test Equipment Price Performance, has named US-based NextGig Systems as its "Partner of the Year" for their sales success, technical prowess and outstanding service.
"NextGig has proven their worth throughout 2012 and their solid contribution to Xena's overall growth was a decisive factor in choosing them as our Partner of the Year for 2012," says Jacob Nielsen, CEO at Xena Networks.
"We are very proud to receive this particular accolade," says Rob Esau, CEO at NextGig. "We believe Xena has the right approach and the right products. As a technology partner our goal is to provide the best solutions to our customers. We are excited to work with a company like Xena, who continues to listen to their customers and partners which helps make their solutions even better."
Headquartered in Westlake Village just north of Los Angeles, NextGig is responsible for sales of Xena's Gigabit Ethernet test equipment in 10 US states on the West Coast. They have a dedicated sales team that has blended outbound advertising with solid lead-generation campaigns involving call-centers to create awareness and demand for Xena's award-winning products.
"In this industry, pricing and product quality are obviously important. But the partner's role is critical for long-term success," says Jacob Nielsen. "From the very outset, NextGig has been committed to leveraging their reputation and extensive network to helping promote Xena as a valid and cost-efficient alternative to the current market leaders."
NextGig started as a Xena partner in 2010 and have proven their value on numerous occasions with constructive suggestions and feedback, many of which are now being incorporated into the next generation of software and hardware releases being developed by Xena Networks.
Another follow-on benefit for Xena were the additional leads resulting from NextGig's calling campaigns that Xena has been able to pass on to partners elsewhere in the US and internationally.
NextGig's rock-solid knowledge of Xena products and features has also been a decisive factor in their sales success.
"Providing great service is essential in complex technology sales," Rob Esau points out. "Being responsive by quickly following up on prospects, and answering their enquiries has required constant communication with Xena's team. They've made this easier for us with a dedicated presence on the East Coast, plus very rapid response times from the main development and production center in Europe."
"Xena looks forward to continuing its relationship with NextGig in 2013. We have a slew of exciting product developments that will increase our market opportunities," concludes Jacob Nielsen. "With partners like NextGig to help us, we are confident that 2013 will be a record year."