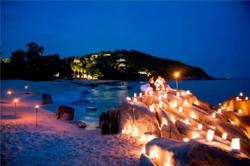 KOH SAMUI, THAILAND (PRWEB UK) 30 January 2013
AKARYN Samui Resort and Spa has unveiled a new menu of over 80 gourmet pizzas, cooked in the island's only hand-made, wood-fired, beachfront pizza oven and featuring the cream of genuine Italian cheeses and cold cuts.
AKARYN guests and Samui residents alike will flip for the ultimate in upscale pizzas, the latest addition to the five star resort's Gourmet Village concept, served with verve and acrobatic skill by Venice native Chef Andrea Brunello, who built his oven by hand, brick by brick, on the beachfront at Hanuman Bay before firing it up for the first time this week.
AKARYN Samui owner and founder Anchalika Kijkanakorn said AKARYN had already served up over 400 delicious pizzas and was just getting warmed up.
Ms Kijkanakorn said AKARYN's incredible pizza menu featuring over 80 gourmet pizzas including classic pizzas, truffle pizzas, novelty shaped pizzas and Thai-infused specialties like Tom Yum Pizza.
"For real pizza connoisseurs, a must is the Ferrari Pizza, with tomato, mozzarella, scamorza cheese, Parma Ham, truffle and porcini mushrooms. Other highlights include a Quattro Formaggi pizza with tomato, mozzarella, brie, blue cheese and smoked scamorza cheese, the Involtino akyra Chura Samui, which is a Pizza Roll with mozzarella, olives, onion, crushed tomato and parma ham, the Ciabatta Hulk with tomato, mozzarella, ricotta, spinach, pesto sauce, parma ham and parmesan cheese, and the Fagottino Emiliano featuring mozzarella, whipped cream, bolognese sauce, mushrooms and parmesan cheese."
AKARYN Samui Resident Manager Alex Castaldi said pizza connoisseurs would be delighted to hear that the chef prepared his dough the day before and let it rise for at least eight hours as dictated by the best of Italian pizza tradition to get the optimum tasting pizza base.
"We have also covered just about every key region of Italy with this menu, including cold cuts such as San Daniele Parma Ham to Schiacciata Calabra Salami, homemade herb cheese, DOP Gorgonzola Cheese, Parmigiano Reggiano Cheese and more.
"I also must mention Chef Andrea's porcini mushrooms, which he slow cooks in a secret white wine sauce before placing them on the pizza.
"Due to the overwhelming demand since the launch of AKARYN Pizza, we will be offering delivery to select luxury villas in the neighbourhood of Hanuman Bay.
"We are also launching Samui's first Pizza Academy, where guests, holidaymakers and residents alike can sign up and learn how to make real pizzas."
Chef Andrea said he learned his trade at Il Corso Pizzeria in the Jesolo district of Venice. It was here that he perfected the fine art of hand-building brick, wood-fired pizza ovens.
"The pizza business is in my blood," he said. "My father is an ironmonger who has spent his life perfecting the iron pizza 'pala', or pizza peel – the flat pizza spade you use to put the pizza in the oven and to get it out when it's ready.
"The oven itself is designed to be the perfect shape and size so the flame and heat are consistent. I used over a thousand fire-bricks to build it. I can cook a pizza in around one minute … to absolute perfection."
AKARYN Pizza takes its place amongst the unrivalled dining experiences that make up the resort's Gourmet Village, including signature 'Asian tapas experience' Ochos, The Legend, dedicated to rediscovering the culinary secrets of Old Siam, The Edge, where the best, freshest seafood is served with international flair, and The Wet Bar, the island's most chilled submerged bar.
For reservations please email to: fb2(at)akaryn.com or dial 077 914700