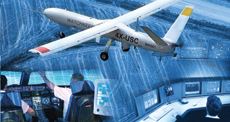 I found out that SAS had completed work previously at our data centre in Doncaster so I knew they had SC security clearance and could work with us.
London (PRWEB UK) 30 January 2013
SAS Global Communications, an international provider of managed network and professional services, today announced the completion of a major networking infrastructure project for global defence and transportation specialist Thales. The project, worth over £100,000, involved the isolation of infrastructure technology supporting Thales's civil aircraft simulation and training business in the run-up to its sale to L-3 Communications.
Thales has been a leader in the defence, security, aerospace and transportation sectors for over a thirty years and today employs 67,000 people in 56 locations around the world. Providing IT resources for such a large number of people has its challenges at the best of times but when Thales took the decision to sell off part of its aircraft simulation business to L-3 Communications, the pressure got even greater for information systems project manager Gerry Murdoch.
"One of the things that made it difficult was that the 450 employees transferring to L-3 needed to stay on the Thales network until the sale was complete," said Gerry. "We couldn't disconnect them; we had to have two of everything so they could leave the Thales network on Friday night and when they came in on Monday, they were connected to L-3's network."
Essentially, this meant splitting the aircraft simulation division in two, both from a business and IT perspective. Gerry and his team had just 60 days to complete the infrastructure project and most of the work had to be carried out overnight and at weekends to ensure there were no interruptions to the business.
In search of a suitable implementation partner, Thales put the project out to tender.
"The Thales network is of strategic importance, it carries the voice and data communications for the entire global operation so we had to find the right partner," said Gerry. "I found out that SAS had completed work previously at our data centre in Doncaster so I knew they had SC security clearance and could work with us."
Gerry decided to give SAS a trial run and asked the company to complete a couple of minor projects to evaluate the quality of its work.
"SAS knew exactly what we needed," said Gerry. "I could see they were going to be a trusted partner from the word go. They had the knowledge to do the project and the ability to work to a sporty timetable without making mistakes."
In the weeks that followed, the SAS engineering team became a familiar sight on the Thales campus as they started to install the new infrastructure.
"We needed to hand over three comms rooms to L-3 and to build two new ones that mirrored these for ourselves," said Gerry.
SAS took responsibility for fitting out the comms rooms for voice and data connectivity; this included new cabinets and the installation of fibre optic technology. It also had the task of moving and reconnecting existing cables – as well as adding new ones where required – and terminating, testing and re-patching them into switches.
On the last weekend, with the new infrastructure ready to go, SAS had the final task of migrating Thales employees out of the old comms rooms into the new.
"It was a long weekend, four days and four nights to cut over the comms rooms," said Gerry. "I didn't get much sleep but it worked like a dream; Thales people saw no disruption whatsoever to their network. In fact they didn't even know what we were doing."
"Our business is constantly changing and SAS always responds to the deadline – often without being given a lot of time upfront," said Gerry. "I would recommend SAS without a shadow of a doubt and I have done in the past. If I left Thales, I'd have no hesitation in asking SAS to come and work for me. Our IT facilities department has recognised big changes in quality of workmanship, speed of turnaround and efficiency, and that's because of SAS."
"Winning contracts with organisations working in classified areas, has always been a challenge but recent World events have undoubtedly contributed to a rise in demand for security-cleared access levels from IT suppliers," said Charles Davis CEO for SAS Global Communications. "SAS was fortunate to have been previously sponsored for Security Check (SC) clearance for our physical infrastructure services because this not only allowed us to bid for the Thales project, it also gave us the opportunity to demonstrate the excellent value we could bring to the organisation."