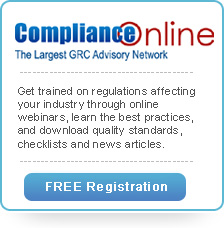 San Francisco, CA & Palo Alto, CA (PRWEB) January 30, 2013
ComplianceOnline, the leading governance, risk and compliance advisory network with over 500 experts in various regulatory subjects, today announced a seminar on Statistical Analysis for Product Development. The two day seminar, led by regulatory affairs expert Steven Walfish, will be held on February 14 and 15, 2013 in San Francisco, CA.
Variability is part of every process and design of experiments helps to separate systematic variability from special cause variability. This two day seminar will provide participants a chance to examine different sources of variability and how it relates to analytical method development, process improvement and sample size selection.
For more information or to register for the seminar, please click here.
Seminar instructor Steven Walfish is the president of Statistical Outsourcing Services, a consulting company that provides statistical analysis and training to FDA regulated industries. He brings over 20 years of industrial expertise in the development and application of statistical methods for solving complex business issues including data collection, analysis and reporting. Mr. Walfish was the Senior Manager Biostatistics, Non-clinical at Human Genome Sciences in Rockville MD.
During the two day interactive seminar, Mr. Walfish will discuss the statistical methods used in process and product development. Participants will learn to improve process output characteristics including quality, cost, and robustness through generating empirical models of processes in the fewest experiments possible. He will discuss the concept of experimental budget that helps to plan the total number of experiments needed. Attendees will also learn to develop strategies for analysis of experimental data.
The objective of this course is to provide participants with key technical information along with perspectives to enable them to apply the technologies to their own projects and evolve their own statistical methods to support the various stages of product development. Attending the seminar will also help to develop confidence to design and execute experiments that maximize information in day-to-day activities and to increase confidence and proficiency in statistical hypothesis testing.
This course is designed to provide valuable assistance to all regulated companies that need to understand their processes including companies in the medical device, diagnostic, pharmaceutical, and biologics fields. It will also be beneficial for development scientists, engineers, analytical method development and QA/ QC personnel.
Date: Thursday, February 14 and Friday, February 15, 2013, 8.30 AM- 4.00 PM PST
Venue & Location: Grand Hyatt San Francisco
345 Stockton Street,
San Francisco, CA 94108
Registration Cost: $1,599.00 per registration
Early bird discounts: For discounts on early registrations, please click here.
Register by phone: Please call our customer service specialists at +1-650-620-3937 or email to customercare(at)complianceonline(dot)com
For more information on ComplianceOnline or to browse through our trainings, please visit our website.
About ComplianceOnline
ComplianceOnline is a leading provider of regulatory/compliance trainings for companies and professionals in regulated industries. ComplianceOnline has successfully trained over 20,000 professionals from 3,000 companies to comply with the requirements of regulatory agencies. ComplianceOnline is headquartered in Palo Alto, California and can be reached at http://www.complianceonline.com/.
For more information please contact:
A Reuben Bernard
Manager of Program Marketing
ComplianceOnline
2600 E Bayshore Rd
Palo Alto CA USA 94303
650-620-3937 phone
650-963-2530 fax
reuben(at)complianceonline(dot)com
http://www.complianceonline.com/