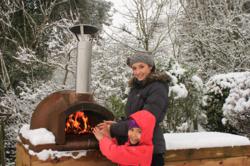 It seems whatever the weather, outdoor wood fired cooking is still popular, even in winter
(PRWEB) January 30, 2013
Although it may be the season for cosying up by an open fire indoors and indulging in comfort food, it appears Brits are more adventurous than ever when it comes to outdoor cooking, despite the plummeting temperatures outdoors. Over the last 6 months the Stone Bake Oven Company, who design and manufacture a range of wood fired ovens, also known as pizza ovens, have noticed a marked rise in wood fired oven sales over the colder months of November through to February.
Not just for cooking pizza, wood fired ovens are set as a 'must-have' cooking appliance in the kitchen, and if space restraints apply, in the garden. A trend set to stay, The Stone Bake Oven Company have a range of affordable and sizeable stone ovens to choose from. Tom Gozney the company founder, is delighted to see the hardy British spirit has few shying away from cooking outdoors, despite low temperatures. ''Most of our clientele may not have the space to place their wood fired ovens indoors, so the majority choose to locate them outdoors," says Tom Gozney, "It seems whatever the weather, outdoor wood fired cooking is still popular, even in winter.''
Wood fired cooking is catching on quick with many celebrity clientele including famous chef's, actors and actresses owning them, but the Stone Bake Oven Company have brought wood fired cooking to the masses with a range of quality, affordable wood burning ovens, all made in the UK. There is even one to cook in the tightest of spots.
Its no wonder they have grown exponentially in popularity, wood fired ovens are mainly famous for authentic pizza cooking in less than 90 seconds, but stone ovens have heaps to offer as a method of roasting, slow cooking, smoking, baking breads, desserts and more. Cheap to run, wood burning ovens are also environmentally conscious and can be run carbon neutrally if wood is sourced responsibly. But the main attraction appears to be clear, and it involves good old-fashioned family time, time with friends, an open fire and great, flavourful food. What else could be better?
Depending on your preferences, opt for an indoor or an outdoor wood oven, and enjoy the results in the comfort of your own home or eat alfresco. Obviously ever so popular during the summer, a wood fired oven is for life it seems, not just for Christmas Dinner.
For a range of indoor wood fired ovens, outdoor wood fired ovens and commercial stone ovens plus free guidance on wood fired oven use, visit http://www.thestonebakeovencompany.co.uk