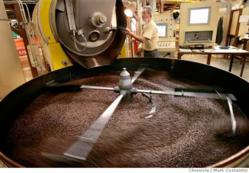 The Kenyan farmer and Rob in Chicago don't know each other but together they set in motion a complex chain of businesses around the world built on coffee.
New York City, New York (PRWEB) January 29, 2013
When some people advocate for a ban of products that are made in some place (China for example), they fail to realize the world is a big manufacturing plant that pools in resources and skills from many countries. Hardly any product now is solely made in one place that consumer products today are more similar than different inside out. The series by Financesonline.com on the economics of everyday things aims to create a broader awareness among American consumers that their favorite brand is at its core a global product. And when businesses are intertwined this much, a failing economy somewhere in Europe or a coup d'etat in Africa, they know, can impact on their daily lives. The morning news has never been this personal.
The article titled The Economics of Coffee follows a bag of coffee beans from cultivation to consumer purchase and shows how each stage are run by people who are different not so much by race or ethnicity now, but by social class. Much like what divides the country now. This is the economics of coffee and this is a story from cherry to cup.
When Rob in Chicago opens a bag of Kenyan whole coffee beans and Bushogo in Machakos, Kenya picks the day's first cherry, the two set in motion a complex chain of economic activities that hundreds of thousands of lives depend. Between the coffee drinker and cherry planter, big businesses thrive.
Ironically, the coffee farmer is visibly the player to receive the least return on investment and the individual coffee drinker is the person to invest the least in this global economic chain.
The readers then travel to Kenya and trace the starting point of the coffee business. From cultivation, the cherries are bought by middle-men known as coyotes because they often rip farmers of a good trade price. The coyotes, more educated and business savvy, can read market prices, while farmers are only too happy to earn a 50% margin. The traders then sell the beans to the coffee mill, a capital-intensive factory that is likely owned by a millionaire in the nearest urban center surrounded by coffee farms. From here, coffee becomes the big players' game. They are milled, hulled, thrashed and washed to separate the pulp from the gold inside: the raw, green coffee bean.
An American coffee house company buys the green beans and ships them to the U.S. The company owns not one but four multi-billion roasting plants. The beans are roasted to the right flavor and aroma, a skill that spawns an adjunct enterprise of master roasters and machine engineering. From here, packs of U.S.-branded Kenyan whole coffee beans are transported by a logistics company, an equally multi-million business, to reach Rob in Chicago.
There's little chance that Rob and Bushogo will meet in this lifetime. But their lives are connected across an ocean, culture and lifestyle by a cup of coffee.
Read the full article The Economics of Coffee and wake up to how the world is intertwined in our age of globalization. FinancesOnline.com is a US-based personal finance website.