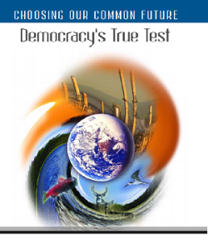 When you include all interests you almost guarantee that the result will transcend the sterile posturing of single-interest politics and that people will learn the habit of listening before passing judgement.
Washington DC (PRWEB) January 29, 2013
The Security and Sustainability Forum announces the next session, "Governing Climate Change: Shifting Priorities in Urban Decision Making," co-produced with the National Council for Science and the Environment, will take place on January 31.
Policy choices made now will determine whether the unprecedented rise in urban population in the coming decades results in sustainable development or business as usual. The ramifications of climate disruptions and shifting population dynamics are felt at the municipal level, making cities catalysts for change. Urban planning is being rethought and re-engineered to include risk assessment and resiliency measures with respect to climate change implications and increasingly diverse populations.
The upcoming session on urban governance will explore international challenges to conventional climate adaptation methods, national accomplishments and innovations in state and local planning, and community collaborative decision making.
Join us January 31st, 1:15-2:45pm EST, for a free webinar. Andrew Stoeckle, Vice President, Environment & Resources with Abt Associates, moderates a panel of experts:

Jette Findsen, Abt Senior Associate, is a climate change expert with 17 years of experience supporting US and international organizations analyzing and implementing strategies to reduce greenhouse gas emissions in a myriad of countries.
Adhir Kackar is a Senior Policy Analyst at the US EPA with a land use planning background; he works on smart growth, brownfield redevelopment, and environmental justice.
Sam Merrill is the Director of the New England Finance Center at the University of Southern Maine and President and Founder of Catalysis Adaptation Partners, a consulting firm specializing in cost-benefit analysis modeling to aid with resilience planning decision making.
About the Security and Sustainability Forum
SSF is a public interest, membership organization that hosts free, live educational webinars. Sessions feature panels of global experts who address human health and welfare impacts caused by climate change and other environmental disruptions. The webinars outline how sustainable approaches to minimize environmental stresses can reduce instability and conflicts, thereby improving the physical and economic security of humankind. Our programs seek to not only educate our audience about sustainability and how it fits into their areas of interest and work, but also spark new ideas about resilient approaches and solutions.
Access to SSF's webinar archive is offered through a free membership program.