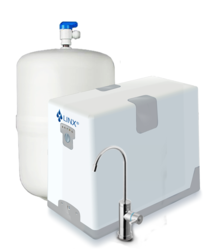 By far, the best habit you can establish in your home is the practice of drinking water. Other beverages, especially sodas and artificially flavored juices, expose your child's teeth to sugar, a leading cause of tooth decay
San Carlos, CA (PRWEB) January 29, 2013
Each February, the American Dental Association sponsors National Children's Dental Health Month. This year, Pionetics Corporation would like to turn America's attention to this important event and supply the tools to establish easy habits that will help children's teeth stay healthy and strong.
Did you know that outside of brushing and regular visits to the dentist, a child's diet is the most important part of preventing cavities, gum disease, and many other common childhood ailments? H. Martin Jessen, Vice President of Pionetics Corporation, explains how the LINX Drinking Water System can help, "By far, the best habit you can establish in your home is the practice of drinking water. Other beverages, especially sodas and artificially flavored juices, expose your child's teeth to sugar, a leading cause of tooth decay. Many beverages, including some fruit juices, also contain acid that will actually de-mineralize teeth. In comparison, water is the one drink that neither clings to the surface of the teeth nor reacts with it."
Additionally, water is "nature's solvent" or cleanser. When a child eats, small particles of food become trapped between the teeth and along the gum lines. Following each meal with a glass of water helps rinse away trapped food that would soon introduce bacteria to the mouth. Better yet, older children can be taught to "swish" with water after snacking or meals to cleanse their teeth and gums.
While teaching children about the benefits of water; however, make sure that the water served is healthy, clean and readily available.Pionetics Corporation has been bringing the best water to American families with the LINX® Drinking Water System. This water filter has an environmental consciousness and user-friendly features that no other drinking water system on the market can supply.
Jessen explains why the LINX Drinking Water System has made such a huge impact on residential water treatment choices, "Not only does the LINX technology save an incredible amount of water as compared to a traditional reverse osmosis system, but it's user friendly. It is available in an under-the-sink model or as a bottleless water cooler, which is always a hit with families with children of any age. Plus, the system's smart software and Dial-A-Taste® feature give the owner a level of control not available with any other drinking water system. If your water tastes good, kids will want to drink it."
To see if a LINX Drinking Water System could be the next step to a healthier family, budget, and environment, go to the website at http://www.LINXWater.com. LINX Drinking Water Systems offer three features that make it unique from any other drinking water technology:

Dramatically less water waste than Reverse Osmosis systems - see the video Insane Water Waste
Operates using "smart" software and display lights that communicate detailed system status to the consumer
Dial-A-Taste® Control that allows the consumer to adjust the mineral content and taste of the drinking water produced.
LINX technology uses an ion exchange process, but uses electricity for regeneration rather than chemicals. LINX systems are controlled by programmable software that allows consumers to adjust the system to produce the water taste they prefer all while conserving water. To learn more about this technology, visit the company website at http://www.LINXWater.com.
Pionetics is currently signing new distributors. Anyone interested in becoming a distributor anywhere around the world - should contact H. Martin Jessen at 480-836-0887.
About Pionetics Corporation:
Pionetics is an innovative water technology company that develops smart water treatment products that deliver great tasting, safe drinking water with less waste than traditional water treatment systems. Pionetics is privately owned and financially backed by Kline Hawkes & Co, NGEN Partners, and Unilever Technology Ventures Fund.
Pionetics is located in San Carlos, CA. To date, Pionetics has been issued over 50 patents worldwide to protect its proprietary know-how and innovative technology.