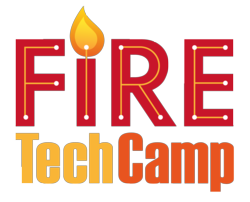 Tech camps are great for kids and their parents, and they also good for our economy – something we all know needs help.
London (PRWEB UK) 30 January 2013
Fire Tech Camp launches this week as London's only tech day camp for children 9-14 years old. Kids will be taught to build the types of applications that they love to play with: video games, mobile apps and robotics. Camps will run during term breaks and summer holidays, giving parents a much-needed alternative to expensive holidays and giving kids a set of skills that will future proof them. This new tech enabled generation may well include the next Mark Zuckerberg or Steve Jobs and will lead to a more innovative and resilient economy.
Fire Tech Camp will be held at Imperial College in South Kensington and will last all day, 8.30 am to 6.00 pm, providing fun and constructive activities for children during term breaks with the first camp kicking off on the 8th of April. Each module consists of five sessions, allowing the children to work on guided projects, and original, independent projects with the support of our experienced teaching leaders and student instructors. Working with groups of 7-10 students, instructors recruited from Imperial and other top engineering and computer science programmes, will help the kids formulate their ideas, acquire the skills they need, and will support the children as they experiment, test and finalise their app, game or robot.
"My own kids went to a camp like this last summer in the US. They couldn't stop talking about it because they loved it so much. I looked for something similar here in the UK but not finding any I decided to launch one myself," says Jill Hodges, CEO, and former hedge fund marketing executive. Research has shown that the longer the lag in technology adoption by a country, the lower the per capita income*. "Tech camps are great for kids and their parents, and they also good for our economy – something we all know needs help."
The courses will use open source software wherever possible so that kids can continue to work on their projects after camp has finished. Parents are invited to see all of the final projects each Friday afternoon.
There are a few scholarships available to enthusiastic kids, in order to make this opportunity available to kids from a wide range of economic circumstances with more information available by emailing scholarships@firetechcamp.com. The camp offers great opportunities for individuals and organizations who want to sponsor places for kids.
An Exploration of Technology Diffusion, Comin and Bart Hobijn from Harvard University.