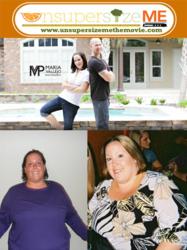 Tracy began to progress quickly...beyond what I had imagined.
Gainesville, Fl (PRWEB) January 30, 2013
The documentary details how Tracy Ryan lost over 200 lbs in one year and gained a freedom and lust for life unlike anything she could have ever imagined. Tracy also gained a very close friend, Juan-Carlos Francisco "Carly" Asse who filmed, directed and produced "UnSupersize Me". The film features how Asse was able to introduce Tracy to a plant-based diet and daily exercise that led to something much more important than weight loss: personal freedom.
Asse's program was simple: "At 345 lbs, Tracy was severely deconditioned and simple movements running or using an elliptical machine hurt her knees so we started with walking. For complete fitness we worked on weight training and Tracy began to progress quickly...beyond what I had imagined."
"UnSupersize Me" the documentary film is now entered in 25 film festivals to include AFI-Discovery Channel's Silverdocs, Seattle International Film Festival, Austin Film Festival, DOXA as well as Camden International. Viewers are drawn into the deeply personal nature of the film as Tracy reveals how her obesity restricts friendships, dating and her ability to truly enjoy life. They are also educated on how beneficial a plant-based diet can be. Starting with a "pantry purge", Asse guides Tracy through Vegan grocery shopping, cooking, juicing and even "Iron Chef" competitions. Tracy and Carly form a close bond during the film as they enjoy beach trips, vacations to exotic destinations and celebrate Tracy's weight-loss milestones with tattoos
.
Private showings of "UnSupersize Me" are being held at Zen Fitness Center and the film will be available for purchase later this year.