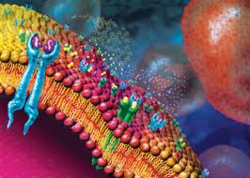 Cell Receptor & Tissue Cells @ TriScience.com
Bad Honnef, Germany (PRWEB) January 30, 2013
The aim of the Repository for Biological Sciences Information including its' new Cell Receptor and Tissue Cells resources is to provide reliable information on various areas of scientific interest in a format that can be digested easily. The information is grouped according to interrelated sections and categories and presented in the simplest words and terms possible helping users understand the context of whatever topic information is searched on.
The Organic Cells Section contains scientific information on the basic structural and functional unit of all living organisms. The term "cell" comes from the Latin word "cellula," which means "a small room" and was coined by Hooke in a book he published in the same year (1665) of his momentous discovery. Cell count can be used as a classification for living organisms. Unicellular organisms have a single cell (most bacteria are included in this category), while multicellular organisms are made up of up to trillions of cells. After inclusion of the two new categories, this section contains ten categories including Cell Binding, Cell Gene, Cell Growth, Cell Membrane, Cell Receptor, Tissue Cells, Cell Treatment, Tumor Cells, In Vitro and In Vivo. This section currently contains over 158,000 articles. Users can receive alerts for newly published content in this section by subscribing to the Organic Cells Section RSS feed.
The newly published category Cell Receptor contains scientific information on cellular receptors which are molecules found on the surface of cells receiving chemical signals from the external environment of the cells. The signals received by the cells "instruct" the cell to perform a specific function, e.g., the cell could allow certain molecules to enter or exit the membrane, initiate the process of cell division, or to die. There are different receptor types found in the surface of a typical cell, and each f these types us is connected to a very specific biochemical pathway. The category currently contains over 12,500 articles including one on a functional comparison of recombinant and native somatostatin sst2 receptor variants in epithelia, a quantitative method for routine measurement of cell surface P2X7 receptor function in leucocyte subsets by two-colour time-resolved flow cytometry, and one on an immunocytochemical study of AMPA and kainate receptors in turtle retina. Users can receive alerts for newly published content in this category by subscribing to the Cell Receptor RSS feed.
The new Tissue Cells category contains scientific information on tissues which are a group of cells performing the same specific and specialized function. While tissues are ensembles of cells, not all of them should be identical in morphology or structure, but they should be of the same origin. When grouped together, the cells forming a tissue carry out a specific function, and tissues are called as such because of their identical functioning. The study of such tissues is called histology, and when the study focuses on the connection of tissues with disease, it is called histopathology. The category currently contains almost 33,000 articles including one providing a brief history of TH17, the first major revision in the TH1/TH2 hypothesis of T cell-mediated tissue damage, and one demonstrating that adipose tissue of human omentum is a major source of dendritic cells, which lose MHC Class II and stimulatory function in Crohns disease. Website users can receive alerts for newly published content in this category by subscribing to the Tissue Cells RSS feed.
The repository groups information in the natural sciences according to interrelated sections and categories that will help readers understand the context of whatever topic is searched information on. Each unit contains a definition composed in an understandable way and each item in these sections and categories contains up to twenty clickable tags.