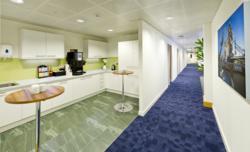 2012 was a fantastic year for Avanta.
(PRWEB UK) 31 January 2013
Following a strong year in 2012, workspace provider Avanta is confident of a year of growth ahead with demand for a new space opening in Mayfair already high.
In addition to opening two new offices in London's West End, and raising almost £10,000 for children's medical research charity Sparks, 2012 was a year which saw Avanta continue to go above and beyond the traditional remit of an office space provider - moving "beyond four walls" and helping its clients to grow their businesses.
Alan Pepper, CEO Avanta, said: "2012 was a fantastic year for Avanta, not only represented by high occupancy rates of 90% or more, but because we have pushed the limits of what workspace providers can do for their clients.
"We are very proud to have created an offering of valuable advice and services in a number of areas crucial to the success of a growing business. With our new space at Sackville Street, Mayfair already 62% pre-let and plans to add even more value for our clients, we are confident of carrying this momentum into 2013."
Throughout October, Avanta ran its hugely successful Grow Your Business programme: a series of events designed to help SMEs and start-ups get to grips with business growth, with a host of notable speakers from different business backgrounds. Covering a wide range of topics, from advice on how to raise finance to communications workshops, the programme provided help and guidance in key areas that can affect growing businesses during the crucial early stages.
The workspace provider assisted clients through the London Olympics, providing advice in partnership with the British Business Club - an organisation that helps businesses benefit from international sporting events. Avanta clients who were unable to reach their office during the Olympics were also able to use available space at any of the company's other 14 London locations.
Avanta bolstered its client benefits package, adding £1000 worth of insurance per workstation and partnering with Ecoigo car service to offer discounted rates on executive cars. In addition, the launch of Avanta Connect - an online community for clients to share and do business with one another - has had a positive impact in encouraging networking and collaboration between clients.
ENDS
Issued by Flagship Consulting
For further media information please contact:
Laetitia Redbond 020 7886 8457 laetitia.redbond@flagshipconsulting.co.uk
Will Brewster 020 7886 8461 will.brewster@flagshipconsulting.co.uk
Callum McCaig 020 7886 8447 callum.mccaig@flagshipconsulting.co.uk
About Avanta Managed Offices
Avanta Managed Offices Limited was formed in 2004. The company offers high quality and cost effective serviced offices, meeting rooms and virtual offices in prime locations throughout London and the UK. All its business centres are managed by highly trained, Institute of Customer Service accredited teams, an industry first. Avanta operates 660,000 sq ft of office space across 20 buildings in the UK, and two in New Delhi, India.
For more information, please visit http://www.avanta.co.uk or call +44 (0)870 0493 401