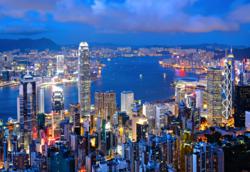 I think that it really doesn't matter if you book luxury hotels in Hong Kong or if you are looking for cheap hotels in Hong Kong
(PRWEB) January 29, 2013
As they like to call it, the 'third lunar month' and the 'fourth lunar month' of the year 2013 will be full of events in the ancient city of Hong Kong. Some of the most important events of these months are the Birthday of Tin Hau, the Goddess of the Sea, mirrored in the city's maritime and fishing heritage, and the Cheung Chau Bun Festival, one of the Top 10 Quirky Local Festivals.
Everyone who is fascinated by the Chinese traditions can book Hong Kong budget hotels from Otel.com and enjoy a great time in a typical Chinese atmosphere. Accommodation in Hong Kong will prove handy any time of the year, because there will always be something interesting to do or see and the majority of people who visit the town don't do it for its festivals, but for the China's enormous cultural heritage.
'Hong Kong is a mixture of old and new, or tradition and innovation', says otel.com CEO. 'In front of such great heritage, I think that it really doesn't matter if you book luxury hotels in Hong Kong or if you are looking for cheap hotels in Hong Kong. You will definitely be invaded by the richness of the traditions and of the city's exotic attractions. You will be swept in like in a whirl that you will not want to get out of.'
The CEO of otel.com admitted that he finds Hong Kong to be a very charming touristic destination, and 'one of the reasons we chose to offer discounts on Hong Kong hotels; in my opinion, it is a must-see destination', he said.
Among the hotels recommended by otel.com count Langham Place Mongkok Hotel (5 stars), Novotel Citygate Hong Kong (4 stars), and Tai Wan Hotel (1 star). 'These hotels will complement every budget and even though some of them are only one star hotels, we guarantee that our clients will check in on very clean rooms and they will enjoy top-notch customer service', ensures otel.com CEO.
About Otel.com
Otel.com is part of Met Global, a worldwide tourism company that offers the best prices on hotel bookings from all around the world. Met Global uses their vast inventory of travel products to supply travel agencies, tour operators and other travel businesses and also to power B2C & B2B websites.
Otel.com runs under to motto 'Book the perfect stay, pay the lowest price!' – therefore, the company is consistently offering best deals on hotels from various countries and continents. This month, they provide Hong Kong hotel deals and discounts on Madrid and Paris hotels.
To find out more about the company and their monthly discounts, visit their official website at otel.com.