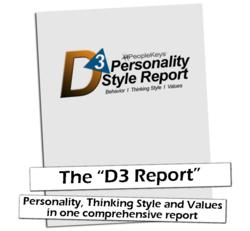 Ultimately, the D3 Report helps employees better understand themselves, and helps companies better understand their employees.
Boardman, Ohio (PRWEB) January 30, 2013
In an effort to assist companies and individuals looking to boost performance in the workplace, PeopleKeys today announced the launch of their "D3" DISC Report. The D3 Report uses DISC theories of human behavior to identify an individual's workplace strengths and limitations. The D3 Report focuses on three dimensions of personality and offers three different behavioral assessment results, making it the most comprehensive personality assessment tool currently offered on the market.
A successful workplace is determined by a variety of factors. Human resource departments around the country consistently emphasize the importance of communication skills, teamwork, enthusiasm, efficiency, and cooperation. The D3 Report provides the tools to comprehensively assess an employee's skills in all of these areas at once, ensuring the most thorough personality analysis possible. Ultimately, the D3 Report helps employees better understand themselves, and helps companies better understand their employees.
The D3 Report starts with a series of multiple-choice questions, designed to classify the test-taker's DISC personality type, workplace values style, and thinking style. The questionnaire results are then used to produce an in-depth and uniquely individualized personality style report. This personality style report contains a wide range of insights into the specific personality type of the test taker, and contains information that individuals, companies, and human resource departments can use to:

Create hiring benchmarks
Build stronger teams
Increase employee morale
Enhance productivity
Improve relationships
Implement change
The D3 Report takes its name from the tri-fold scope of the evaluation. It includes:
1) The DISC Personality Style Assessment, which offers communication strategies specifically tailored to personality type. This report focuses on communication style, predictable behaviors, ideal environments, and behavioral strengths and limitations.
2) The TEAMS Thinking Style Assessment, geared toward identifying an individual's natural strengths in a team. This report looks at the way individuals process information and form strategies, and shows how these personality traits can be best used to an advantage in a team environment.
3) The Workplace Values Style Assessment, designed to identify the internal motivators that naturally impact decision-making.
For the client, this means that instead of purchasing micro-focused personality tests that only target one aspect of human behavior, the D3 DISC Report includes findings that speak to multiple areas that make up an individual's personality, including communication style, thinking style, innate behavioral tendencies, and inner motivations. The result is an in-depth and well-rounded analysis of multiple facets of an individual's personality, culminating in an action plan that gives a step-by-step description of how to best use the information in the D3 Report to create a more productive, efficient, and harmonious workplace.
To learn more about the comprehensive D3 DISC Report, please visit our online store.
About PeopleKeys
PeopleKeys has been providing DISC-based behavioral analysis tools to companies, organizations, and individuals for over 30 years. An internationally-recognized expert in the field of human behavior, PeopleKeys uses DISC theory to foster an understanding of the way different personality types think, act, and interact. For more information about PeopleKeys and their products, please visit their online store or contact Marketing Manager Kaitlyn Miller at 330-599-5580 x113.
###