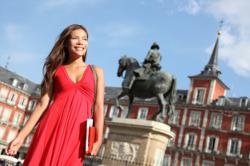 We decided that these cheap Madrid hotels will please the majority of our customers.
(PRWEB) January 29, 2013
Each year 7 million people come to Madrid for a week or two, with the aim of ticking most of the touristic attractions here. Each month, almost 600.000 people from all around the world meet in the Spanish capital, making it one of Europe's main attractions. And there is no wonder: there are so many things to see in the city that often a 2 week holiday is not enough.
However, those visiting the city during the first months of the year have a great advantage over those who arrive there in the hot summer months. Otel.com emphasizes these advantages, suggesting that Madrid is not so crowded this time of the year and the mild weather makes visiting here a pleasant activity.
Moreover, otel.com CEO recommends three hotels in Madrid that are part of February's discounts. He says, 'We decided that these cheap Madrid hotels will please the majority of our customers. They have a good location and are affordable to anyone seeking for accommodation in Madrid. I am talking about H2 Fuenlabrada Hotel, Try Diana Hotel and Campanile Madrid Las Rozas Hotel'.
The three Madrid hotels are strategically located close to Madrid's main attractions, such as Catedral de la Almudena, Plaza de Toro de las Ventas or Plaza de España Jardines de Ferraz.
Otel.com also offers great deals on luxury hotels in Madrid, but the company insists that the three above-mentioned hotels are featured among the best deals of the month. Those who want to spend their holiday in Spain and to taste the country's flavor, should consider booking in advance or visiting during the first months of the year (due to practical reasons).
About Otel.Com
The website belongs to the worldwide tourism company Met Global. On the website, visitors can choose from hotel deals, or they can book hotels depending on their theme. Check in and check out dates availability is also put at their clients' disposal, as is booking for adults or children.
Met Global is a major online travel company with offices on three continents: Europe, Asia and North America. Met Global is one of the most experienced and respected providers of discounted hotel inventory.
To find out more about Met Global, people can visit their official website of MetGlobal. For more information about Otel.com and their monthly hotel discounts, visit otel.com.