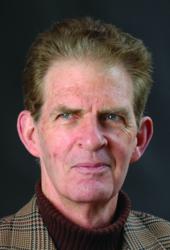 Highlighting the plight of the Aboriginal peoples
London (PRWEB UK) 31 January 2013
Australian author Trevor Steele, whose series of historical novels have already caused quite a stir, has now notched up another first when three of his books recently featured in the end of year Top Ten Best Sellers list for the international language Esperanto. Steele, himself a linguist and historian, was delighted with this achievement. He has already had a dozen novels published in Esperanto along with translations into many other national languages.
"Paradise Stolen", a novel about the genocide of the Tasmania Aboriginals sits at number two while "Soaring With Cockatoos", a novel about the colonisation of Australia and the fate of the Aborigines is at number seven. His latest novel "As Though Everything Depended On Me" enters the charts at number ten and tells the story of a journalist between the wars as he witnesses the unfolding of the Holocaust and tries to raise his voice against the wave of barbarism he witnesses in Germany.
Whilst his books have always sold well in their various translations, Trevor is particularly proud of his achievements within the Esperanto community as he sees this as an emerging force in the world of internationally focused literature. "This really is quite amazing," Trevor said. "Paradise Stolen was only released in October and to hit the charts at number two is unbelievable."
Trevor's books have always courted controversy due to their uncompromising views on colonialism and genocide. "I spent one and a half years living on an Aboriginal reserve in the Northern Territory ... really living among Stone Age people. That tends to give one a different viewpoint," he continued. "It's tragic what happened to these people."
The English language versions of these novels are published through Mirador Publishing and are available in all good bookshops or online stores both as paperback and ebooks.
Note for editors: Esperanto is an artificial human language. It was created in 1887 to be a common world language by L.L. Zamenhof with the goal to create an easily learned and politically neutral language that could be a second language for all countries of the world. Esperanto received official recognition by UNESCO in 1954
Trevor Steele can be contacted via his website at http://www.trevorsteele.co.uk
Mirador Publishing can be contacted via sarah(at)miradorpublishing(dot)com
Or via the website at http://www.miradorpublishing.com