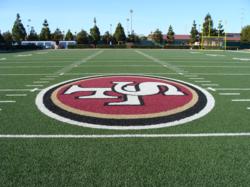 Championships are won on the practice fields.
Calhoun, GA (PRWEB) January 29, 2013
"Championships are won on the practice fields."
Two teams that practice on Shaw Sports Turf are perhaps proving that old adage true as the Baltimore Ravens and San Francisco 49ers prepare to battle each other in Super Bowl XLVII.
In addition to the Super Bowl sibling rivalry between the Harbaugh brothers, a turf war has already broken out as the Ravens and 49ers host their final practices and drills -- running, driving, blocking, tackling and catching -- on their Shaw Sports Turf fields leading up to Feb. 3.
"At Shaw Sports Turf, we pride ourselves on creating a foundation for victory with our engineered synthetic turf systems, aiming to provide the safest, most consistent playing surface in the NFL," said Chuck McClurg, Vice President of Shaw Sports Turf. "We have been servicing both the Ravens and the 49ers for many years now, a testament to the superior quality of Shaw Sports Turf."
For more than a decade the Ravens have been a valued partner, installing Shaw Sports Turf in their previous game and practice fields. Now in their second lifecycle, both the 108,000 square feet game field and the 109,000 square feet practice field feature Shaw's Momentum® 51 product. Also featuring Momentum, the San Francisco 49ers outdoor practice field was installed in 2006 and measures 74,100 square feet.
Momentum mirrors the same look and feel as natural grass and is known for its durability and overall performance. With a 2.5-inch pile height and a two-inch infill that is a 50-50 mix of sand and rubber, the Momentum 51 system offers the best combination of firmness, speed and safety.
Shaw Sports Turf has also provided practice and stadium fields for other NFL teams, including the Saints, Jets, Bills, Browns, 49ers and Steelers, as well as for D-1 colleges like Alabama, LSU, Arkansas, Vanderbilt and Georgia Tech.
About Shaw Sports Turf
A wholly-owned subsidiary of Berkshire Hathaway Inc., Shaw Industries is a full flooring provider to the residential and commercial markets. Shaw supplies carpet, rugs, hardwood, laminate, resilient, and tile/ stone flooring products, as well as synthetic turf. Shaw Sports Turf is one of the leading synthetic turf companies in North America and has represented quality and innovation for more than two decades with over 1,000 successful installations, including an impressive list of high-profile field installations. For more information please visit http://www.shawsportsturf.com, call 866-703-4004 or find us on Facebook.