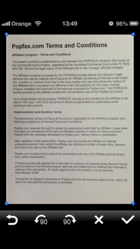 Turn your smart phone into a pocket fax machine
New York, NY (PRWEB) January 30, 2013
Life is becoming more and more mobile: in 2013 users can do almost everything from a smart phone, from taking pictures, recording movies, checking the weather forecast, to booking a hotel or a trip, making the most of the budgets and saving money.
Thanks to mobile technology, the fax machine is also going mobile, allowing users to fax documents anytime and anywhere.
Users can now transform their iPhone, Samsung Galaxy or Blackberry device into a pocket fax machine by installing the Popcompanion mobile application from iTunes, Google Play or Blackberry App World.
So, now it is possible to take pictures with the smart phone's built-in camera and fax them at once. In other words, the mobile device becomes a real fax machine: all the customers have to do is to scan the pages of a document one after the other with the smart phone's camera and send the resulting assembled document to their fax correspondent.
The integrated image processor in Popcompanion adjusts the photo and converts it into a faxable black & white document. As soon as a picture is taken, it can be rotated at 90 degrees, the page size can be adjusted by dragging the document margins. After the conversion to black & white is reviewed, there can be added as many photographed pages as it is needed. Popcompanion will interpret it as a single fax document with multiple pages. Faxes are sent immediately.
Popcompanion also offers a customizable cover page that can be attached to the documents to give them a more professional feel.
In addition to this unique scan to fax feature, Popcompanion is another window into the Popfax account, with a user-friendly interface in several languages (English, French, Spanish, Italian, German, etc) which allows Popfax customers:

To view the sent/received faxes, SMS, voice mails
To manage contacts and groups of contacts
To use the Popfax contacts or the device contacts to send faxes, SMS, etc.
To use this app, users need to subscribe to the Popfax fax service, which offers a Free Fax Trial allowing free testers to send up to 4 fax pages and to receive an unlimited number of faxes. After that, they can choose from different faxing offers (which provide even more features than the mobile application: registered fax, personalized fax sending, fax mailing offers, fax number portability, corporate fax offers, etc.).