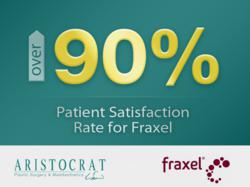 Over 92% of Aristocrat Plastic Surgery & MedAesthetics' Fraxel patients expressed extreme satisfaction with the treatment
New York (PRWEB) January 29, 2013
New procedures that promise to reverse the aging process are always met with caution, regardless of how well they perform in clinical trials. Future patients are reserved not only about the results of a certain procedure, but also about its comfort, level of pain, possible side effects, and more. In an attempt to address these concerns, Aristocrat Plastic Surgery & MedAesthetics, a New York plastic surgery practice, performed a satisfaction survey of patients who underwent Fraxel laser treatment, a popular new skin-rejuvenating procedure that has received a lot of media attention.
Fraxel Therapy is a laser technology aimed at reversing the visible effects of aging, including fine lines and wrinkles, as well as restoring skin damage such as surface scarring, pigmentation, sun damage, and more. It is a fast, non-surgical, no downtime method.
The Fraxel laser reaches deep into the skin's second layer, the dermis, and helps stimulate the body's restorative abilities and the new collagen creation. Older skin that is damaged is removed from beneath the epidermal layer, the outermost area of skin. The procedure is unique because it only targets a specific part of the skin, reducing the risk of skin damage to the healthy skin.
Based on a recent satisfaction survey of Aristocrat Plastic Surgery & MedAesthetics patients who underwent Fraxel treatments at this practice:

Over 92% of Aristocrat Plastic Surgery & MedAesthetics' Fraxel patients expressed extreme satisfaction with the treatment, the care, the comfort, and the friendliness provided by the nurses and aestheticians.
Over 90% said that the staff was very knowledgeable about the procedure and that 96% of the staff adequately answered all questions about the Fraxel procedure.
Since 90% of these respondents complimented the overall comfort at Aristocrat Plastic Surgery & MedAesthetics' office, they also stated that they would visit this plastic surgery practice again for future procedure and services.
You can read more about the Fraxel procedure at Aristocrat Plastic Surgery & MedAesthetics website here, you can contact the Great Neck or Manhattan offices online, or call (516) 498 9790 for any questions that you may have.
###
Aristocrat Plastic Surgery & MedAesthetics offers a broad spectrum of surgical and non-invasive plastic procedures in two locations in Manhattan, New York City and Great Neck, Long Island. The founder and chief plastic surgeon of Aristocrat Plastic Surgery & MedAesthetics is Dr. Kevin Tehrani, recognized as one of the TOP 10 plastic surgeons in New York and a diplomate of the American Board of Plastic Surgery.