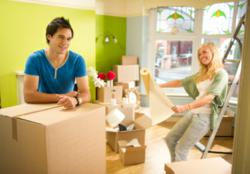 Few movers, large number of customers, and outdated technology -- all of these characterized the moving truck rental industry's landscape.
Los Angeles, CA (PRWEB) January 31, 2013
America is not just a land of opportunities, it is a land where people are constantly on the move. From work-related relocations to long-term vacation getaways, an estimated forty-five percent of Americans move at least once in a few years. The process often required the help of professional movers, who would pack, ship, and unpack all household items and furniture.
The industry was mostly controlled by major companies, leaving customers with few or no options when it came to selecting moving truck rental companies. "It was a process of choosing either one or the other. Having just a handful of options was as good as having no options at all," explains Lisa, who recently moved from Connecticut to California. "That could be frustrating because there was often no room to negotiate. We were left to the mercy of these giant companies for whom we were just a number," adds Lisa.
In a recently released press statement Calvin Davis, CEO of MovingTruckRental.com, issued the following statement:
"The moving truck rental industry was being viewed by customers as an oligopolistic landscape where a limited number of companies controlled the overall industry. Customers were forced to choose from a small number of moving truck rental companies. We are announcing several strategic partnerships and a powerful directory of movers that will double our current portfolio of partners and help expand the options available to customers. We are probably one of the few industries where less is not more. More is more. Our site, MovingTruckRental.com allows customers to connect with several moving truck rental companies, obtain free quotes, compare offerings, and choose the company that best serves their needs."
John, a moving truck rental analyst with MovingTruckRental.com released his opinion as an addendum to Calvin's statement:
"This is a very exciting move as our company expands its network of moving truck rental companies. Not only will customers have more options, they will be able to obtain better prices and streamline the overall selection process by as much as fifty percent. Our new portfolio of partnerships empowers customers with the philosophy of faster, safer, better, and cheaper."
If you would like more information about this news, visit our website at MovingTruckRental.com.