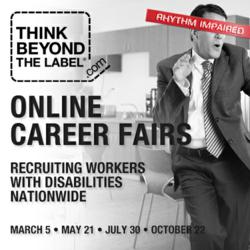 A virtual career [helps] businesses engage and make connections with targeted job candidates—in this case, job seekers with disabilities.
Chicago, Ill. (PRWEB) January 31, 2013
Think Beyond the Label, a private-public collaborative that connects businesses, job seekers and the public workforce system together to ensure greater employment opportunities for workers with disabilities, today announced the 2013 Think Beyond the Label Online Career Fair series, designed to regularly connect employers to qualified job candidates with disabilities seeking employment with companies that value workplace diversity.
Brazen Careerist, a leading cloud-based recruiting technology firm that connects employers and candidates in virtual recruiting events, will power all four online career fairs in the series, where employers can feature their current job opportunities and chat one-on-one with job seekers—with the goal of helping companies build their pipeline of qualified candidates. The career fair is free for job seekers with disabilities.
Who should attend

Job seekers with disabilities from all backgrounds, with all skill levels, nationwide
Federal contractors who have jobs for people with disabilities, and want to enhance their compliance efforts
Employers nationwide who value workplace diversity and inclusive team-building
Think Beyond the Label and Brazen Careerist will host four online career fairs this year:
DATES: March 5, May 21, July 30 and Oct. 22 (all Tuesdays)
TIMES: 1.00 pm – 4.00 pm Eastern Time
SIGN UP: Online registration is available now
Employer benefits
Employers will gain one-on-one access to Think Beyond the Label's 3,500 registered community members. All have disabilities. One-quarter have at least five years of relevant job experience; one in three have a professional certification or college level degree or beyond. Think Beyond the Label's online career fair in 2012 facilitated 326 conversations between employers and job seekers with disabilities.
"With a changing economy also comes new territory for recruiting, hiring and retaining a diverse workforce. A virtual career fair helps businesses by providing a cost-effective and time-efficient platform to engage and make connections with targeted job candidates—in this case, job seekers with disabilities," says Barbara Otto, CEO of Health & Disability Advocates, the Chicago-based policy and advocacy organization that operates Think Beyond the Label.
Participating employers in Think Beyond the Label's virtual recruiting event last year included Boeing, The Hartford, AT&T, Union Pacific, Pearson and more. Pearson, the world's leading learning company, has already signed up for the March 5, 2013 event.
"At Pearson, we want to make joining our company as easy as possible – including ensuring that our recruiting initiatives are accessible to all applicants, regardless of ability," says Gwen Hodgson, Senior Technology Recruiter at Pearson. "To that end, Pearson enjoys meeting with candidates in a variety of formats, from live, in-person conferences and fairs to virtual events, like this one hosted by Think Beyond the Label."
A job seeker's success
Paul Ferrara, 42, is seeking a career change. A blind professional from Louisville, Ky., he uses a screen reader, which enabled his online chats with four different companies during Think Beyond the Label's online career fair last year. That virtual event opened doors to new contacts and possibilities for him – so he will be participate in the March 5 event.
"If you are looking for a job, and you have a disability, I would go so far as to say you are absolutely foolish if you don't take advantage of this event," says Ferrara.
Otto adds: "Online recruiting changes the game for candidates with disabilities. For example, it helps a job seeker with a physical disability – who can't always get to an on-site interview that easily. Meanwhile, the deaf and hard-of-hearing can nail an interview through real-time chat and messaging, allowing them to clear the audio hurdles of a traditional telephone interview. In the end, employers focused on workplace diversity can find and hire qualified people with disabilities to help boost their brand and bottom line."
About Think Beyond the Label
Think Beyond the Label is a private-public collaborative that helps businesses and the public workforce system more effectively recruit, hire and retain job seekers with disabilities across 50 states. Think Beyond the Label connects the entire range of job seekers with disabilities to employers looking to hire through its virtual career fairs, online jobs portal, social platforms and community profiles. Our partnership spans state health and human service and employment agencies; businesses; and Health & Disability Advocates, a national private nonprofit organization that manages the Think Beyond the Label partnership. For more information please go to http://www.thinkbeyondthelabel.com.
About Brazen Careerist
Brazen Careerist combines groundbreaking virtual recruiting events with actionable career advice and education to help professionals discover their strengths, refine their skills and find a job they love. The company helps hundreds of employers identify, engage with and hire top talent – and helps universities connect their students and alumni with each other and with top employers around the world. Hundreds of large organizations – from Amazon and Citi to Deloitte and the U.S. Department of State – use Brazen Careerist's virtual event platform, Brazen Connect. For more information, please go to http://www.brazencareerist.com.
###