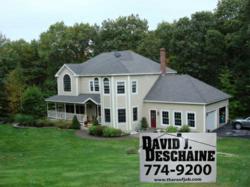 We have picked up our roof shoveling maintenance programs throughout the southern Maine area again."
South Portland, Maine (PRWEB) January 30, 2013
David J. Deschaine, Inc. a roofing company in southern Maine, is offering roof shoveling maintenance programs to its customers. After experiencing a number of years with relatively warm and somewhat snow free winters, Deschaine wants to remind customers of the importance of roof shoveling maintenance programs during the winter months. Owner David Deschaine wants customers to know, "We have picked up our roof shoveling maintenance programs throughout the southern Maine area again." According to the National Weather Service, Southern Maine receives an average of 47 inches of snowfall in the winter months. At the end of December, they were already up to 30 inches in some parts.
As a homeowner or business owner, it is important to consider the damage that heavy snow and ice build up can cause on a roof. If a roof looses its structural integrity, it is at great risk of collapse. With continuous freezing and ice dam build up, winter weather can cause interior water damage to the home and personal belongings.
Fully insured roofers are very important when shoveling a roof because of the extreme danger involved. Customers want make sure that the roofing contractor has full coverage insurance, including general liability and workers compensation.
There are preventive measures that can help avoid ice dams. Proper roof ventilation can prevent ice dams, and overall snow removal from eaves and overhangs. Ice and water shields, water barriers installed underneath the shingles, and installing electrical heating tape are all options. Customers are encouraged to speak with a qualified roofing expert to discuss the best option for their roof.
About the company:
David Deschaine Roofing and Vinyl Siding Company has been offering professional and trusted home improvement services for over 25 years. With thousands of satisfied customers throughout Southern Maine, David Deschaine has the most trusted and recognizable name in the industry. Servicing Greater Portland Maine areas. His company offers 5 Star Coverage to customers, and with 25 years experience there is a benefit of a Workmanship warranty. For more information visit their website at http://www.daviddeschaine.com.