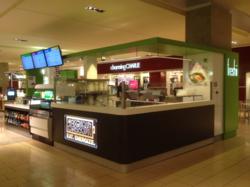 Houston, TX (PRWEB) January 30, 2013
Freshii celebrated the grand opening of its fourth location in the great southwest in The Galleria® Mall located in the food court on the ice-skating rink level with a healthy and delicious menu and an interior that's fresh and bold- definitely a must-see.
With the mission: "Eat. Energize." this location, which follows after the already popular locations in the Houston Centre, Two Shell and Chase Tower plans to make its mark on the city with an upbeat fast-casual brand that elevates quick eating for even the busiest people. Be the first to check out the menu and modernized look with free samples and specials throughout the week showcasing Freshii's nutritious and energizing menu to celebrate the grand opening.
Freshii challenges the world to eat foods that not only taste great and are nutritious, but also provide the energy needed to live life to the fullest and on the go. Already a staple in offices, film sets and dining rooms in New York, Los Angeles, Toronto and abroad – Freshii is paving the way for a new segment of health-casual dining with an unique approach to healthy living emphasizing foods you should eat more of instead of focusing on foods to avoid. Ideal for an on-the-go, nutrient-packed breakfast, lunch, or afternoon snack in a "build your own" format, Freshii features salads, wraps, rice bowls, and soups with over 70 of the finest ingredients available, including organic beef, all-natural chicken, and locally sourced produce and has an option to accommodate almost any dietary need.
"We're thrilled to bring The Galleria a fresh and healthy alternative to traditional fast food," said Operating Partner Lauren Yapundich. "The Mall seems like a natural fit for the innovative Freshii concept as this dynamic community embraces many of the same values Freshii does as a company – health consciousness, physical activity and environmental responsibility."
Energizing at Freshii doesn't stop at the food. The leading-edge and stylish space in The Galleria® features bright bold décor, upbeat music, high-tech digital menu boards, a nutritional showcase, ample seating, free wi-fi, Freshii's, grab and go items, snacks, and fresh brewed local Katz coffees and teas.
Freshii was started in Toronto in 2005 and is excited to bring healthy meals and snacks to over 28 different global cities and communities in a sustainable way. This means the lettuce isn't the only thing that's green at Freshii. They are on a mission to educate others on how they can be eco-friendly in their everyday life, aptly called "Mission Green". They do everything they can to maintain an economically sustainable restaurant. From using recyclable and post-consumer packaging to biodegradable bowls and recycled napkins.
From Monday-Friday 7:00-9:00pm, Saturday–9:00am-9:00pm and Sunday 10:00am-7:00pm, guests can enjoy energizing music and friendly staff by dining on site or can easily place an online order for pick-up or catering delivery. Freshii fans can follow daily deals, insider promotions, and nutritional tips on Twitter and Facebook or build virtual meals and track all nutritional information online at http://www.freshii.com.
# # #
About Freshii : Freshii was established in 2005 and has achieved recognition as the perfect place for fresh, convenient, healthy, and delicious meals and snacks custom built, fast. Freshii's menu offers salads, burritos, wraps, rice bowls, yogurts, and soups in a "build your own" format, personalized with ingredients from three categories: light - super low in fat, but high in fiber, essential vitamins, minerals, antioxidants and lean protein, balanced - essential fats, slow-burning carbs, good oils and high protein, and classic - great flavors to be enjoyed in moderation.
Freshii's hip, friendly, and environmentally sustainable approach has brought the concept fast popularity and triggered its expansion across North America and internationally with an expected 100 locations open and under development in over 8 countries and 20 cities around the world in 2013.
Website: http://www.freshii.com