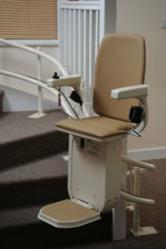 It's never been more important that consumers can find assistive technologies at low prices
(PRWEB UK) 30 January 2013
An issue often faced in the assistive technology market is that the products often represent true necessity. By the time a consumer has a sincere interest in purchasing they are at risk of losing personal independence in their own home. Unfortunately, there is a high cost involved in designing and constructing assistive technologies, needing both high quality parts and expertise.
With recent government cuts restricting mobility benefits even further, it's never been more important that consumers can find assistive technologies at low prices. In light of this, Oakland Stairlifts are now extending their range of reconditioned stairlifts to include curved variants, with the aim of accommodating customers with architecturally difficult homes who cannot afford the price of alteration.
A representative from Oakland Stairlifts was free to discuss the new offer, and their reasons for introducing it. "We rely on encouraging word of mouth in order to expand, and take immense pride in keeping prices down for our customers. For instance we offer free home assessments to each and every customer with an interest in our products, which mainly serve to not only judge what solution would be best for their home, but explaining how the pricing system works, what justifies it, and ways to bring it in line with their financial assets. Curved stairlifts require substantially more investment to build and install. We see no reason why any customer should be priced out, so making them available at discounted rates is only fair."
The company's applies a comprehensive twenty two point check system to their reconditioned range, aimed at returning each second-hand product to showroom condition. Worn parts are replaced and tested for load, before being resold at a fraction of their original prices.
Prices and availability are available to customers upon enquiry. Interested buyers can phone at any time to speak with a representative of the customer service team, who will outline the currently available stock, along with helping to establish appropriate price ranges for the customer's architecture and financial assets.
Oakland Stairlifts are a Leicester based seller of assistive technologies, ranging from an extensive range of stairlifts to electrically powered wheelchairs and scooters. They constantly try to keep services viable based on the living conditions, physical impairment and finances of each individual customer, and will expand that service to include even wider ranges of products.