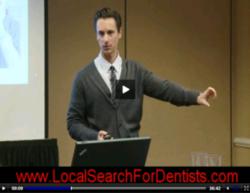 "After working with LocalSearchForDentists.com for just a short time, we've shown great improvements with the patients coming to our practice from Google and online searches"
Chicago IL (PRWEB) January 29, 2013
Graig Presti and his team at LocalSearchForDentists.com have recently received top reviews from dental professionals across the nation for their highly effective internet marketing and reputation management programs. Statistics show that more patients are going online to research dentists before making an appointment, and LocalSearchForDentists.com is helping hundreds of local dentists across the globe achieve dominance in their local online search market. Presti's unique system combines the most important features of search engine optimization (SEO) and business listings along with elements to build a positive reputation for each dentist with Google reviews, YouTube videos, press releases and more.
Recent reviews of LocalSearchForDentists.com by professionals in the industry show that the program is helping them gain a competitive edge online as well as drive more patients to their practices like never before.
"After working with Graig Presti and LocalSearchForDentists.com for just a short time, we've shown great improvements with the patients coming to our practice from Google and online searches," said Dr. John Mergen of Iowa City, Iowa. "We've received four times our response compared to before using their service and we are always ranking in #1 and #2 positions for our target keywords."
Dr. Larry Stroud, another client of LocalSearchForDentists.com located in Louisville, Kentucky, said, "The bottom line is that no one knows the internet like LocalSearchForDentists.com. I listen to everything they say because it works. I had an angry customer leave a nasty review, but Graig and his team helped me build up my online credibility so it wouldn't destroy the reputation we worked so hard to develop."
Studies have shown that 80% of consumers change their purchase decisions based on negative reviews. Unfortunately, many good dentists are plagued with false negative reviews as a result of a disgruntled patient or former employee. The reputation management program offered by LocalSearchForDentists.com helps dentists both recover from negative reviews and also take precautionary measures to minimize their damage should they occur.
Graig Presti has been an industry leader in the Internet marketing industry for several years. He is a frequent speaker at dental conferences where he shares his marketing techniques and self-authored reports that help professionals better understand local search, its importance and how to achieve online success. He was recently featured in Newsweek Magazine as a Champion of Health, Wealth and Success.
For more information about the internet marketing program offered by LocalSearchForDentists.com or to read reviews of Graig Presti's company, please visit http://www.LocalSearchForDentists.com. and http://www.youtube.com/watch?v=-iZt8hP2nhA