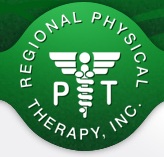 Too often, evaluation and treatment have been restricted to the injured area only. This new exam assists therapists in locating the problem area(s) quickly so that we can then treat the pain, as well as the restrictions
Midwest City, OK (PRWEB) January 29, 2013
Due to changes that are expected to occur as a result of the Affordable Care Act (ACA), healthcare facilities will be looking to cut patients' treatment time in order to be able to see more patients. The problem lies in innovating healthcare to also increase the quality of care in this shorter time. One new tool that Regional Physical Therapy has implemented to decrease the length of treatment while improving patient care is the Selective Functional Movement Assessment (SFMA). The SMFA will help diagnose an area of pain more quickly and effectively based off of various movement tests of a person's joints and muscles.
The SFMA is a series of seven full-body movement tests which are designed to assess fundamental patterns of movement, such as bending and squatting, in those who have known musculoskeletal pain (1). These diagnostic tests combine movement at all the joints to identify which areas are not functioning, thus showing which ones are causing undue stress on the correctly functioning areas.
During the initial examination, patients are put through a series of movements wherein all areas of pain and dysfunction are noted. Further break-out examinations are then performed in order to localize the true areas of restriction. Based on the break-out findings, the causes are identified, providing explanations of the sources of abnormal motion. This allows the physical therapist to correctly determine a treatment plan which will shorten treatment time while remaining effective.
Under the ACA, most individuals who can afford insurance will be required to obtain basic health insurance coverage or pay a fee to help offset the costs of caring for uninsured Americans (2). Because of the high volume of patients expected to walk through clinic doors, therapists need to find ways to maintain their quality of care while continuing to remain solvent as a business. Healthcare professionals may need to hire additional physical therapist but won't be able to afford to do so, due to the pay cuts they are receiving from insurance providers as a result of the ACA. To make up the difference of lost income, therapists will need to reduce a patient's treatment time so that more patients can be seen and treated. Regional Physical Therapy has already found, through a recent case study, that the SMFA successfully reduces treatment time, thereby allowing more people to come in and get the quality help they need.
Case Study
Problem:
● Patient suffered from recurrent neck and facial pain over the last several years.
Diagnosis
● Using the SFMA examination, it was identified that the patient had a restriction in her mid-back, which was causing her neck to have to move excessively in order to perform normal, everyday tasks.
● Her neck was persistently painful because she had to place abnormal stress on that area. Once the restriction was identified, with proper treatment to the "non-painful" area, the neck began to improve.
Treatment:
● After just a four-week treatment plan, she was set up with a home treatment program which assured that the restriction was corrected, and her neck pain resolved for the first time.
"Too often, evaluation and treatment have been restricted to the injured area only. This new exam assists therapists in locating the problem area(s) quickly so that we can then treat the pain, as well as the restrictions," commented Vicki Buchanan, owner of Regional PT.
To help more patients benefit from the results of the SFMA, Regional PT will offer a course on the new test for her employees and other industry professionals. On February 8-9, 2013, the Midwest City physical therapy clinic will host a 16-hour course on Selective Functional Movement Assessment for health care professionals who treat patients with musculoskeletal dysfunction.
"We want to continue to train our therapists in implementing the latest techniques in our industry and to help our patients in as many different areas as possible," commented Buchanan.
In addition to manual therapy, Regional PT offers aquatic therapy, on-site physical therapy, comprehensive programs and massage services. For more information, visit http://www.regionalpt.com.
About Regional Physical Therapy, Inc.
Based in Midwest City, Oklahoma, Regional Physical Therapy, with over 50 years of combined experience, treats patients with tailored, comprehensive treatment plans which are designed to fit individual needs. Regional Physical Therapy was founded in 1993 by owner Vicki Buchanan, who attended the University of Oklahoma Health Sciences Center and graduated with a degree in Physical Therapy. Dedicated to the late co-founder Bruce Hawkins, the Bruce Hawkins Scholarship award was established by Regional Physical Therapy, Inc., in 2009 to give back to the profession that Bruce was dedicated to advancing. The Bruce Hawkins Scholarship has been awarded to Oklahoma University students who show outstanding leadership characteristics and embody the spirit of dedication to the profession of physical therapy. Regional Physical Therapy uses the team approach to help patients regain lost function, with the purpose of providing high-quality physical therapy services to the community. For more information, visit http://www.regionalpt.com.
(1) SFMA.com. Accessed January 18, 2013. "SMFA," sfma.com/site/
(2) Healthcare.gov. Accessed January 23, 2013. "Timeline of Affordable Care Act," healthcare.gov/law/timeline/index.html