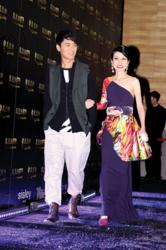 China's fashion and style will break out in the next ten years
New York, NY (PRWEB) January 30, 2013
A highly anticipated inaugural Phoenix Fashion Awards drew throngs of screaming fans and fashionistas to watch movie stars, super models and designers walking down the red carpet at Beijing's tony Park Hyatt Hotel on December 19, 2012. Chiu-Ti Jansen, the Publisher of YUE Magazine, attended the event sponsored by the Phoenix Fashion Newwork (fashion.ifeng.com), an affiliate of Phoenix TV, along with China's fashion world luminaries including international actress Cecilia Cheung, supermodel Qin Shupei, pop singer and actor Wu Qilong, international piano sensation Lang Lang, designers Chen Shiying and Cindy Chao and TV host/fashion publisher Hong Huang, among others.
This year's Phoenix Fashion Awards took as its point of departure the theme of "Chinese Articulation, Fashion Outlook," with celebrities talking about what fashion meant to them individually and personally during their red carpet appearances. When asked about her own take on Chinese fashion perceived from a New York and international perspective, Ms. Jansen enthused that "China's fashion and style will break out in the next ten years, with global fashion scenes looking to China as the focal point of inspiration and experimentation, and Chinese designers as well as taste-makers increasingly exerting their influences on the international trends."
In addition to recognizing the indigenous talents and leaders in China, the Awards also paid tribute to international brands that have made a difference in the style scene in China: CHANEL, Salvatore Ferragamo, Piaget and Four Seasons. An accompanying "Style China" show served as the playgrounds for Louis Vuitton, DIOR, DVF, TADASHI and LANAMARKS to register their respective brand identities.
"Fashion is an attitude," declared pop singer Wu Qilong, a sentiment echoed by many of the celebrities attending the special event. While some award presenters and recipients donned glamourous tuxes and off-the-runway gowns, others sported casual, cool and "comfortable" looks that communicated their personal styles. The award ceremony also featured special performances by Lang Lang (a Chopin waltz) and the "China's Great Voices" winner Li Daimo (a popular love song).
At the request of Fashion TV and Phoenix Fashion Network, Ms. Jansen has made in English a video presentation of the highlights from the award red carpet and ceremony, which will be aired by Fashion TV in more than 100 countries worldwide.
About YUE Magazine
YUE, a preeminent Chinese-English lifestyle magazine, is published by a joint venture established by Observer Media Group and CHINA HAPPENINGS™. YUE is modern luxury Chinese travelers' gateway to the high-end, history-rich brands across fine jewelry, watch, fashion, art, culture, design, real estate and lifestyle industries in New York City. Since its launch in November 2011, YUE has gained a following among Chinese business and leisure travelers and New York luxury businesses as the embodiment of New York's international lifestyle.
About Phoenix Television
Phoenix Television is one of the top broadcasters and television networks in Greater China. Headquartered in Hong Kong and privately owned, the Mandarin Chinese television network serves Mainland China and Hong Kong, along with other markets with substantial Chinese viewers. Through six different television channels, including Phoenix InfoNews Channel, Phoenix Chinese Channel, Phoenix Movies Channel, Phoenix Hong Kong Channel, Phoenix Television provides news, information and programs covering current affairs, fashion, entertainment and sports, among others. Phoenix TV's affiliated fashion-focused website -- http://fashion.ifeng.com -- is a leading online fashion platform in Greater China, bringing to its viewers timely reports on global fashion news, trends and happenings.
About Chiu-Ti Jansen and CHINA HAPPENINGS™
Chiu-Ti Jansen is a TV presenter, a lifestyle magazine publisher and a writer based in New York City. CHINA HAPPENINGS™ is a multimedia platform founded by Ms. Jansen, Publisher of YUE Magazine, to focus on the lifestyle and cultural industries of contemporary China. Ms. Jansen is a fashion and style columnist for the Financial Times' Chinese edition (http://www.ftchinese.com). She wrote a column titled CHINA HAPPENINGS for the NYO Magazine. She has also written on Chinese luxury lifestyle and cultural scenes for English publications such as Sotheby's at Auction magazine and the Whitewall Magazine. A native speaker and writer of Mandarin Chinese, she regularly contributed to the China Times, the United Daily and The Artist Magazine on a wide array of cultural and art-related issues. Prior to founding CHINA HAPPENINGS™, Ms. Jansen was a New York-based corporate partner of Sidley Austin LLP, an international law firm of approximately 1,700 lawyers. Educated at National Taiwan University with advanced degrees from Yale and Columbia, Ms. Jansen is currently an International Honorary Ambassador of the Lang Lang International Music Foundation, a member of the Contemporary Art Advisory Committee of China Institute in America, a Board Member of the Couture Council of Museum at the Fashion Institute of Technology (FIT) and a life member of the Elizabethan Club (for Renaissance Studies) of Yale University. The Art and Living magazine recently featured her in an interview included in its 2012 Bridging the East and the West Edition She has appeared as a fashion expert on China's top-rated fashion/beauty show I Am a Great Beauty and has been interviewed by Wall Street Journal, Women's Wear Daily, World Journal, Jing Daily, SINOVISION, China Press, Sing Tao Daily, among others. Ms. Jansen has hosted featured video presentations on the New York Fashion Week for China's SINA FASHION, interviewing designers and super models such as Jason Wu, Liu Wen, Phillip Lim and Oscar de la Renta.
Media Contact:
Claire X. Lin
212.407.9302
clin(at)observer(dot)com