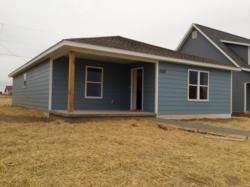 Springfield, Mo. (PRWEB) January 29, 2013
A family who survived the May 11, 2011 Joplin, Mo., tornado received keys to a new disaster-resistant, energy-efficient home this week from Convoy of Hope. Since breaking ground on the project nearly a year ago, this is the seventh deserving family to get a new start on life through Convoy of Hope's project in Joplin.
Convoy of Hope broke ground on the homes in February 2012. The total construction costs to-date for the project have topped nearly $1 million.
"This project would not have been possible if it weren't for the generous supporters and partners of Convoy of Hope," says Hal Donaldson, president of Convoy of Hope. "On behalf of all the families we've been able to help in Joplin we thank all who have joined in this effort."
The new homeowners will move into the new home this week. Convoy of Hope expects to hand over the keys to the eighth home in the project next week, with others to follow in the coming months.
Partners for the project have included Adam Brady Construction, Alpha Title LLC, Project Safe Home, T.F. Concrete Forming Systems and Joyce Meyer Ministries—Hand of Hope. These partners have coordinated efforts to build disaster resilient homes in the aftermath of the Joplin tornado. The new high-tech, low-energy buildings are specially designed with reinforced concrete walls and other innovations to be sturdier and more sustainable than traditional houses.
MEDIA OPPORTUNITY
For interviews with homeowners or to visit a family on move-in day (Wednesday, January 30, 2013), contact Jeanne Hamilton at jhamilton(at)convoyofhope(dot)org or 417-860-4066.
About Convoy of Hope
Convoy of Hope, founded in 1994, has a long history as a first responder in times of natural disasters and has been a Four Star Charity as recognized by Charity Navigator for nine consecutive years. Convoy of Hope, a faith-based organization, has a driving passion to feed the world through children's feeding initiatives, community outreaches, disaster response and partner resourcing. Learn more at http://www.convoyofhope.org or follow us on Facebook or Twitter.
Contacts:
Jeff Nene
Mobile: 417-860-2196
National Spokesperson
jnene(at)convoyofhope(dot)org
or
Jeff Roman, 417-851-4483
Mobile: 417-942-7570
Public Relations Desk
jroman(at)convoyofhope(dot)org