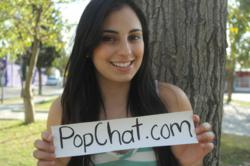 San Francisco, CA (PRWEB) January 30, 2013
PopChat.com, an online service providing singles with an access to webcam chat and free video chat rooms, published an article describing useful rules to successful dating online. PopChat.com has been a popular destination for adults with busy life styles that have little time to meet and greet. Instead of waiting for a weekend to go on blind dates or to meet strangers in bars, singles can join video chat rooms where they can meet people from around the world and video chat with them.
The first rule to dating in video chat rooms described in the article is to become a "hot score". Participating in video chat room discussions and building self confidence is an important key factor to get people interested in video chatting. It is recommended to have a handful of topics to discuss, and being able to portray self as a positive and interesting individual.
Next rule discussed in the article is not to give out any personal information. While online video chat rooms are generally safe, it is prudent not to divulge any personal information such as phone numbers, emails, facebook usernames, etc. Video chat rooms allow people to chat anonymously without exposing their private lives to strangers.
Engage many people in conversations is the next rule outlined in the article. Video chat rooms provide an opportunity for singles to meet and webcam chat with many people. This makes online dating process easier as it opens up many options. Additionally, when talking to a group of people in a video chat room, there is a lesser chance of a rejection as opposed to sending someone a message hoping they would like individuals dating profile. It is important to explore all the options and talk with many people in a video chat room.
Finally, the article suggests not to be overly aggressive and not to stalk anyone who's not interested to webcam chat. There are unlimited opportunities in video chat rooms to meet men and women, and continue pursing someone who is not interested would make people uncomfortable and lessen the chances of meeting someone special.
To read the article please visit http://www.popchat.com/press/2013/01/four-rules-to-dating-in-video-chat-rooms/
About PopChat.com
PopChat.com is a privately operated service dedicated to providing a quick and easy way for people to meet each other in a casual video chat environment. It allows users to communicate using video chat, voice and text messaging in public and private chat rooms.