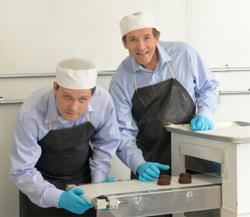 It doesn't help to provide good nutrition if people aren't willing to eat it. With Omega Heaven we've succeeded in creating a taste that has a widespread appeal.
Venice, FL (PRWEB) January 30, 2013
The creators of the heart-healthy "Omega Cookie" and "Omega Passion" chocolates have come up with another tasty snack – the patented "Omega Heaven" – just in time to give or receive for Valentine's Day.
After much success with their heart-healthy, fish oil- and oat -based Omega Cookie, Doctors Bo Martinsen and Anne-Marie Chalmers of Omega3 Innovations have unveiled the Omega Heaven. The Venice-based biotech company is launching this newest product just one year after releasing the Omega Passion, a chocolate truffle rich in omega-3 fish oil.
The Omega Heaven, according to Dr. Martinsen, is the best of both worlds: a flavorful oat fiber Omega Cookie covered with the decadent dark chocolate of an Omega Passion.
"With 245 calories and only 13 grams of sugar, Omega Heaven is perfect as a satisfying breakfast, lunch or a treat anytime," Martinsen said. "And, what's even more exciting is that research suggests that eating oat fiber and omega-3 fish oil activates cells to burn more fat. In addition, those same ingredients help create satiation, thus reducing snack cravings and helping manage weight.
With all-natural ingredients like non-alkalized cacao, orange juice, egg whites, applesauce, honey, banana puree, cinnamon, coconut flavor, olive oil and orange peel fiber, one might expect the cookies to be tasty. But, ingredients like purified, full-spectrum fish oil, gluten-free oats, calcium, and vitamin D3 also make them healthy.
That combination of healthy and delicious ingredients is exactly Omega3 Innovations' mission.
"It doesn't help to provide good nutrition if people aren't willing to eat it," says Chalmers. "With Omega Heaven, we've succeeded in creating a taste that has widespread appeal. Plus, we're providing fish oil and fiber in a small, convenient meal."
The Omega Heaven's potent ingredients make it a great adjunct to corporate wellness programs, says Martinsen. He notes that the company plans to market Omega Heaven sales specifically towards businesses looking to improve workplace nutrition.
Still, Chalmers says that the pleasures of eating an Omega Heaven aren't limited to business.
"Why not give your Valentine a gift that is not only from the heart, but also the brain" Chalmers asks.
The Omega Heaven is currently available for purchase at wholesale pricing, and can be ordered by phone. To learn more about any of Omega3 Innovations' products, call 866-414-0188 or visit omega3innovations.com.
About Omega3 Innovations: Founded by Bo Martinsen, M.D., and Anne-Marie Chalmers, M.D. – two physicians who have worked with omega-3 fish oil for more than 15 years – the company offers several varieties of Omega Cookies, as well as Omega Cure supplements. Each Omega Cookie contains seven capsules worth of omega-3 fish oil, five grams of fiber, 200% of the daily value of vitamin D and 35% of the daily value of calcium. The company was named a winner in the category of innovation at the 2010 annual Economic Development Corporation of Sarasota County's Hall of Fame awards. The honor came as the result of being the first company to create a bakery product that contains an effective dose of omega-3 fish oil.
For more information about this release, please contact: Anne-Marie Chalmers, M.D., Omega3 Innovations president, 941-485-4400 or am(at)omega3innovations(dot)com