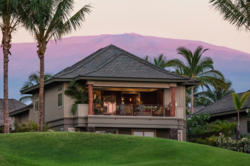 Kohala Coast, HI (PRWEB) January 29, 2013
Hawaii new home builder Brookfield Homes Hawaii has announced that KaMilo at Mauna Lani, their flagship community of 137 Big Island homes, will be featured on an upcoming episode on HGTV's newest show, "Hawaii Life" airing on January 31st and re-airing through February 2013.
The episode follows a Japanese-American couple that is relocating to the Big Island from Japan to start a Tiki torch business. The episode follows the couple and their local real estate agent as they search for a spacious island-inspired home with an open floor plan as an alternative to their small Tokyo apartment. According to Brookfield Homes Hawaii Marketing Manager Carrie Gorospe, the new home buyer's story is a familiar one.
"We have seen increased interest from mainland and international buyers who want to take advantage of the strengthening market to relocate to Hawaii full-time, or to fulfill their dream of purchasing a Hawaii vacation home. KaMilo is a popular choice because it is one of the only new home communities located within the Mauna Lani Resort and because it offers an appealing combination of luxury, value and a truly authentic island inspired lifestyle," says Gorospe.
The couple's final choice will be revealed when the show airs on January 31st.
KaMilo features 8 different floor plan types including detached and paired homes that range from 2,212 square feet to 3,781 square feet. Home prices range from the mid $700,000s to $1.6 million. Optional custom design features include Cocoboo hardwood flooring, woven natural fiber ceiling treatments, Photovoltaic solar systems, and more. Homes that are currently available at KaMilo include some of the most desirable locations in all of Mauna Lani Resort including golf course, Kohala Mountain, and distant ocean views. The Mauna Lani Resort has been recognized as one of Hawaii's top luxury resorts and one of the world's top Luxury Eco-friendly Resorts by Condé Nast Traveler Magazine.
Residents of KaMilo enjoy access to an exclusive 2-acre private Recreation Village that includes 2 pools, 2 spas, a state-of-the-art fitness center, and an outdoor gathering pavilion. Residents have access to the exclusive Mauna Lani private Beach Club and enjoy local shopping, dining, and abundant resort amenities.
For more information about upcoming episodes of "Hawaii Life" on HGTV, or to check your local listings for date and time information, visit the HGTV website. To view a virtual tour of KaMilo and download a brochure, visit the http://www.brookfieldkamilo.com or contact the Sales Center at (808) 885-6130.
About KaMilo at Mauna Lani
KaMilo at Mauna Lani is a joint venture resort community between Brookfield Homes Hawaii, Inc. & A&B Properties, Inc. Award-winning Brookfield Homes Hawaii, Inc. offers luxury residential resort communities on the Islands of Hawaii including KaMilo at Mauna Lani (Island of Hawaii), Nihilani at Princeville and PiliMai at Poipu (Island of Kauai). http://www.brookfieldhawaii.com
A&B Properties is a wholly owned subsidiary of Alexander & Baldwin, Inc., Hawaii's fourth largest landowner with 88,000 acres of land on Hawaii. A&B Properties' diverse real estate holdings include development projects on Oahu, Maui, Kauai, and the Big Island on the U.S. Mainland. http://www.abprop.com