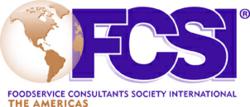 Bloomington, IL (PRWEB) January 29, 2013
FCSI-The Americas, the only consulting society dedicated to serving independent foodservice design and hospitality management professionals, will host a half-day event that immediately precedes the North American Food Equipment Manufacturers (NAFEM) Show in Orlando, FL February 6, 2013 at the Orange County Convention Center.
The FCSI opening event, Foodservice Trends and Innovations, features a half-day of presentations on trends in healthcare, business and industry, and university settings. Additionally, culinary trends will be discussed by Chris Jones, who is executive chef of the Old Collier Golf Club in Naples, FL and president of the American Culinary Federation's Caxambas Chapter of Naples and Marco Island.
Foodservice Trends and Innovations Agenda:
1:30 - 2pm: Passing of the FCSI Worldwide Gavel to Ed Norman, FCSI
2 - 2:30pm: Business and Industry Foodservice Trends - featuring Mark Freeman from SFM
2:30 - 3pm: Healthcare Foodservice Trends - featuring Beth Yesford from AHF
3 - 3:30pm: College and University Trends - featuring Storm Hodge from University of Washington
3:30 - 4pm: Bio Break & Refreshments
4 - 4:30pm: Culinary Trends - featuring Chef Chris Jones
4:30 - 5pm: Equipment News - featuring Mary Esther Treat from Ideas Well Done, LLC
5 - 6pm: Cocktail & Networking Reception
Thousands of attendees are expected during the three-day NAFEM show, which starts on February 7, also at the Orange County Convention Center. Products for food preparation, cooking, storage and table service will be displayed by 500 exhibitors throughout 760,000 square feet of space. Educational opportunities and certification programs are also available.
"Our half-day event before the NAFEM show has become a popular tradition for not only our members but for leading foodservice design and operations consultants throughout North and South America," said Wade Koehler, executive director, FCSI-The Americas. "This event, and the NAFEM event that follows, will provide foodservice consultants with tremendous insight into how operators are thinking about their capital investment plans in 2013, about their innovation needs, as well as access to valuable business connections."
"This event also helps us kick-off a new year of education and marketing opportunities for FCSI consultant members. Our members are widely recognized among the top foodservice designers and operations consultants in the world, especially for their willingness to share their expertise with the foodservice world," said Koehler. "Year-in and year-out, our members generously offer their time and talent to colleagues at tradeshows and to foodservice students as a way to promote the industry."
Recent examples of members giving back to the foodservice community include nine FCSI members who offered free consultations at the 97th Annual International Hotel, Motel + Restaurant Show in an Ask the Experts booth this past November in New York City. Plus, more than a dozen FCSI-The Americas members were part of the annual Ask the Design Experts Pavilion, which always draws heavy traffic as a featured part of the National Restaurant Association's Restaurant, Hotel-Motel Show last May in Chicago.
Then there were a couple members in 2012 that were featured guests in college classrooms. Don Avalier, FCSI, FMP of Avalier & Associates, spoke in October 2012 about hospitality design trends to students at Mira Costa College, Oceanside, CA. Then on November 28, 2012, hospitality students at Harper College Palatine, Illinois learned about sustainable foodservice operations from FCSI member Greg Christian of Beyond Green Partners.
Upcoming Events Featuring FCSI Consultants
FCSI-The Americas will again participate in the popular "Ask the Design Experts" booth at the National Restaurant Association (NRA) show to be held May 18-21, 2013 in Chicago. Free, 30-minute consultation sessions with designers and management advisory consultants may be scheduled during the NRA show.
About FCSI-The Americas
For more than 50 years, FCSI-The Americas has served as the voice of independent foodservice and hospitality consultants, defining excellence in the development, execution and process flow implementation of commercial foodservice design and hospitality management. Visit the website at http://www.fcsi.org/?page=TALanding.