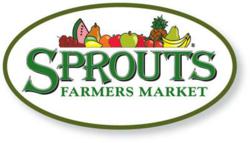 "We believe that our healthy, value-based business model connects with both the lifestyle and conventional consumer, giving us the ability to reach a broad consumer base," said Sprouts President and CEO, Doug Sanders
Phoenix, AZ (PRWEB) January 29, 2013
Sprouts Famers Market today announced the opening of its 150th store, just a decade after its founding.
"We believe that our healthy, value-based business model connects with both the lifestyle and conventional consumer, giving us the ability to reach a broad consumer base," said Sprouts President and CEO, Doug Sanders, "and that we will continue to benefit from the country's focus on healthier eating habits."
Over the past two years, Sprouts has completed two major acquisitions, Henry's Farmers Markets and Sunflower Farmers Markets, and 20 store openings while still delivering on its business strategy and providing consumer education on healthier eating habits.
"As the trend toward healthier eating continues to gain traction with traditional supermarket customers," Sanders said, "we believe that Sprouts can successfully bridge the gap from conventional to natural."
Sprouts is a neighborhood grocery store with the feel of an old-fashioned farmers market, featuring prominently displayed mountains of fresh fruits and vegetables, barrels of wholesome grains, nuts and sweets, full-service deli, meat and seafood counters – complete with beef and sausages ground in-store.
The store's spacious aisles showcase fresh baked goods, an eclectic selection of beer and wine, gourmet cheese, sensibly priced vitamins and supplements, and thousands of natural, organic and gluten-free groceries. Sprouts' friendly and knowledgeable team members help shoppers make healthier choices that are better for them and better for their budgets.
Sprouts has more than 11,000 employees and creates on average 85 jobs with each new opening. The chain operates 150 stores throughout Arizona, California, Colorado, Nevada, New Mexico, Oklahoma, Texas and Utah, and is well on the way to becoming one of the largest natural food chains in the country. Sprouts has 18-20 grand openings planned in 2013.
To learn more about Sprouts Farmers Market, please visit http://www.sprouts.com. For interviews with the Sprouts leadership team, please call the contacts listed at the bottom of this release.
About Sprouts Farmers Market
Arizona-based Sprouts Farmers Market's distinctive format offers a bright, cheery shopping experience that has been its cornerstone since the founders, the Boney family, opened their first produce stand in 1943. Our stores feature natural, organic and favorite indulgence foods at a great value, including mountains of fresh produce; all-natural meats; seafood delivered up to six days a week and more than 200 bins of bulk nuts, grains, spices, and trail mixes