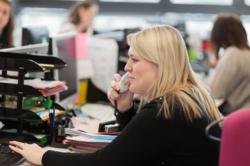 "Getting experience has become a very big obstacle for young people, particularly at a time when they are up against experienced candidates who have been made redundant
(PRWEB UK) 31 January 2013
The study, which was carried out by the Work Foundation, looked at youth unemployment internationally. It showed that the UK has experienced the fastest rise in youth unemployment of any country in the G8 since the start of the recession.
James Rook, managing director of Sanctuary Personnel, explains the difficulties young people face. He said: "Getting experience has become a very big obstacle for young people, particularly at a time when they are up against experienced candidates who have been made redundant. Although, we cannot blame the recession entirely for this; it has been an ongoing issue for a number of years.
"I remember when I was first looking for a job, I was constantly turned away and told I needed to get some experience. It is very difficult to get experience if employers don't give you a chance in the first place, particularly if, like me, you are dyslexic and had not achieved the greatest academic grades."
Sanctuary Personnel, which is the largest provider of social workers in the UK, has employed more modern apprentices than any other employer in East Anglia. James continued: "It gives me great pleasure to invest in our modern apprenticeship academy, giving young people an opportunity to help find and develop their skill set through a very supported professional programme. We have taken on a number of modern apprentices as permanent staff, who have since progressed further within the company – one of whom is about to qualify as an accountant."
On-the-job training through apprenticeships has proved to be a way forward for young people, greatly encouraged by the coalition government. With apprenticeships in increasing demand, this year's National Apprenticeship Week, taking place from 11-15 March, is on track to be the biggest to date.