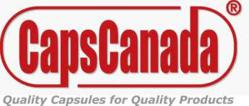 (PRWEB) January 31, 2013
For over 30 years, CapsCanada® has been a leading provider of empty capsules. The company has announced expansion plans of its K-CAPS® (HPMC capsules) manufacturing line with a new state of the art facility near Windsor, Canada.
According to Gabriel Eilemberg, Executive Vice President, "demand for K-CAPS® remains strong in both the pharmaceutical and dietary supplement industries." He added: "Compared to other HPMC capsules, K-CAPS® have exceptional appearance and superior filling performance which directly translates into reduced downtime and reduced raw material loss in capsule filling operations."
K-CAPS® are currently sold in more than 50 countries around the world.
The company plans to invest over $25 million and add 40 jobs over 5 years.
CapsCanada® is a world leading manufacturer of empty gelatin and HPMC capsules. Clients include the most prestigious companies around the world.