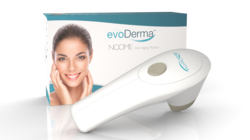 NOOME™ gives users an authentically youthful glow without painful cosmetic surgery
Montréal, Québec, Canada (PRWEB) January 30, 2013
NOOME™ is the latest innovation from contemporary anti-aging research, and allows users to prevent and repair the signs of facial aging from the comfort of home.
With state-of-the-art technology, NOOME™ effectively targets three major causes of facial aging: decline of collagen and elastin production, muscle tension and slower skin cell turnover. NOOME™ Anti-Aging Motion by evoDerma:

Stimulates skin cell renewal to smooth fine lines and wrinkles
Releases facial tension to attenuate expression lines
Brightens complexion for a youthful glow
Relaxes muscles for long-term wellness
Improves the efficiency of any anti-aging skin care regimen
Using a clinically proven mechanical technique called non-invasive subdermal therapy (NIST), NOOME™ gives users an authentically youthful glow without painful cosmetic surgery. NIST is a professional, in-office approach that combines a vacuuming motion with micro-lifting rapid pulses to deliver effective and comfortable facial rejuvenation. This sophisticated technique enhances blood circulation, boosts protein production, stimulates skin cell renewal, and relaxes the facial muscles.
In addition to repairing skin damage from aging, NOOME™ is the first device of its kind to serve as a preventative tool. By stimulating protein production and skin cell turnover, as well as relaxing the facial muscles, NOOME™ effectively delays the appearance of unwanted facial aging.
Facing the world with healthy and youthful skin is of universal concern, which is why all evoDerma products are designed for both men and women. NOOME™ strengthens the skin and powerfully fights aging for an invigorated, glowing look that anyone would envy.
EvoDerma specializes in adapting professional tools for individuals, which is why it is unsurprising that their first foray into rejuvenation would result in a high-quality product like NOOME™ Anti-Aging Motion. As a company, evoDerma is committed to reaching the highest standards of excellence at each level of production, ensuring a quality product that exceeds industry safety standards.
The NOOME™ Anti-Aging Motion is an affordable and efficient rejuvenation device, which can be purchased at http://www.evoderma.com beginning January 28, 2012. Visit the website or call 1-855-EVO-DERM (1-855-386-3376) for more information.
About EvoDerma
EvoDerma Inc. strives to provide cutting-edge skin care and hair removal products for the home. Its innovative research and development department is continuously working to provide consumers with professional-grade aesthetic products for home use. The LUMI™ IPL hair removal device, EvoDerma's flagship product, is a testament to the company's commitment to quality, safety and efficiency.