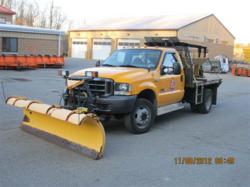 Using Municibid, the income is much more than we received when we only advertised locally.
Peters Township, PA (PRWEB) January 30, 2013
In an online auction starting January 29th and slated to end on February 12th, Peters Township, PA is selling a Ford F-450 4WD flatbed truck with snow plow and salt spreader for additional non-tax revenue. By using an established, but innovative, online government auctions site specifically designed for municipalities, Peters Township will also sell a 2003 Ford Crown Victoria and a 2003 Ford Explorer. During the 2-week online auction, the township is looking to make thousands of dollars to be put back into its budget.
Peters Township is using online auction site, Municibid.com to sell the vehicles. Municibid was established in 2006 and has grown steadily since, with over 800 government agencies auctioning surplus through the efficient online system. Peters Township Manager, Michael Silvestri says, "using Municibid has broaden our scope of clients. We still get mostly local bidders but we sold everything from fire trucks to someone in Canada and other equipment as far away as Connecticut. The income is much more than we received when we only advertised locally."
Peters Township decided to use Municibid to auction its surplus items because the website has an established nationwide reach growing every day. Auctions on Municibid result in competitive bidding and fair prices for government surplus items.
Municibid Founder and CEO, Greg Berry said, "Taxpayer demand and tightened budgets require government agencies to look for new ways of increasing non-tax revenue. Municibid is an easy way to achieve this and at no cost to the agency." Berry added "Auction items will reach a much broader, national audience of competing bidders, leading to better net results."
The Peters Township, PA Auction goes live on the Municibid website on January 29th and will close two weeks later, on February 12th. With 3 vehicles up for auction, including the snow plow and salt spreader, township officials are looking for thousands of dollars in revenue to be put back into the municipal budget.
All of the available items can be found on the Municibid website here:
http://www.municibid.com/search.asp?searchtxt=Peters&searchtype=2