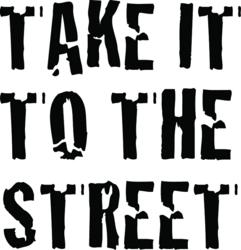 'Take It To The Street' is Banff's way of celebrating Canada's iconic sport in an equally iconic destination
Banff National Park, Alberta (PRWEB) January 29, 2013
Banff National Park's grand SnowDays festival finale, the "Take It To The Street" ball hockey tournament will also take it to the airwaves in a big way on February 9, 2013. CBC Television has chosen the picturesque mountain town as one of the remote locations for their annual coverage of Scotiabank Hockey Day in Canada.
Coinciding perfectly with the CBC's annual televised tribute to Canada's beloved national sport, the "Take It To The Street" shinny tournament will see teams of three battle it out for supremacy along one of the nation's most famous main streets, Banff Avenue. All teams entered in the tournament will be eligible for the grand prize valued at over $2000.00 in goods and services.
"Take It To The Street is Banff's way of celebrating Canada's iconic sport in an equally iconic destination," said Stu Back of Banff Lake Louise Tourism. "We invite hockey lovers from everywhere to enter a team and come to play in this exciting end to the SnowDays festival which will now be broadcast in part to a nation of enthusiastic hockey fans."
CBC's Hockey Night in Canada's Ron MacLean will anchor the televised festivities from Peterborough, Ontario alongside NHL alumni and other Hockey Night in Canada personalities as they share stories from across Canada including live look-ins from Banff. Adding to the celebration and fun, Banff will also be awarding prizes to the best Don Cherry look-a-like to attend the tournament. Viewers in Alberta can enjoy the fun starting at 12:00 p.m. MST.
Registration for Take It To The Street remains open and teams of up to five players, two of which will act as substitutes, can sign up here to play in the round robin event which will take place February 9 and 10.
-30-
About Banff National Park
Banff National Park is Canada's oldest national park and a UNESCO World Heritage Site. For over 125 years, Banff National Park has provided visitors with a healthy combination of unspoiled wilderness, modern amenities and opportunities for active exploration. It is an area of unparalleled beauty, protected and cherished by Canadians and visitors from around the world. For more information about Banff National Park, please visit: http://www.banfflakelouise.com and for images please visit http://photos.banfflakelouise.com
For additional information about events and festivals taking place in Banff National Park, please visit http://www.banfflakelouise.com/events
Banff Lake Louise Tourism
Contact: Mary Morrison
403-762-0290
mary(at)banfflakelouise(dot)com