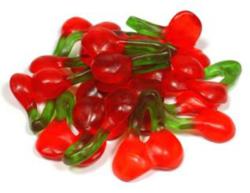 "Here at Weaver Nut, we are always striving to get the best deals so we can pass those savings onto our customers. This creates trust in our customers that they will always find a large selection of products at the best possible price."
Ephrata, Pennsylvania (PRWEB) January 30, 2013
Ever since Ronald Reagan made jelly beans an Oval Office staple, candy makers have seen growing interest in specialized products for President's day and they have responded accordingly.
The makers of Pez have nine different presidential candy dispensers including such unlikely offerings as James Polk and Zachary Taylor. The Mars Candy Company sells what is purported to be the hot chocolate concoction that George and Martha Washington enjoyed. Licorice jelly beans, Reagan's favorite are a popular gift item in our nation's capitol, and the Weaver Nut Company, one of the nation's premier wholesaler of bulk candy and nuts, is seeing a booming business in their perennial favorite, Twin Cherry Gummies.
These colorful gummie-yummy treats are fashioned a red cherries with green leaves and are holiday for corporations, their customers, employees, friends, and family.
Haribo Twin Cherry Gummies, a tribute to our first president, are delicious to the core, yet contain 0 trans fat, 0 saturated fat, and 0 cholesterol, containing five delicious pieces per serving. Imported from the Hungarian candy district of Central Europe, Twin Cherry Gummies are a popular favorite with children and adults alike.
A family business for over 35 years, the Weaver Nut Company retains the small-town flavor of their original candy store, Weaver Nut Sweets & Snacks, and still specializes in bulk candy, nuts, dried fruits, coffees, teas, chocolates and confections, imported from all around the world. The company specializes in candy for holidays, weddings, and other special occasions. Their whimsical hand-made lollipops come in a wide variety of colors and flavors.
Weaver Nut Company also boasts the finest collection of kosher candies available in bulk, including chocolates filled with heavenly creams, caramels, and nuts at the best prices. Kosher jellybeans, gummies, and sprinkles are also available, as well as nonpareils for decorating and baking.
Vincent Weaver, General Manager had this to say, "Here at Weaver Nut, we are always striving to get the best deals so we can pass those savings onto our customers. This creates trust in our customers that they will always find a large selection of products at the best possible price."
Weaver Nut Company is a family owned and operated company since 1975. They are a nationally recognized distributor of candies, dried fruits, nuts, coffees, teas, chocolates and confections. For more information about President's Day and other special occasions, call toll-free at 1-800-473-2688 or visit http://www.weavernut.com.