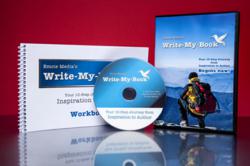 Imagine what it could mean to a teenager to see his own book for sale on Amazon. It can be a real game changer for so many kids.
Orlando, Florida (PRWEB) January 30, 2013
Emcie Media, the publishing wing of Emcie System, recently announced the launch of a self-help program for aspiring authors, called Write-My-Book: Your Ten-Step Journey from Inspiration to Author. Marianne Carlson, the president of Emcie Media, and the publisher of the Write-My-Book program, describes the program this way. "It consists of a DVD, a Workbook, and a website," she explains. "The DVD gives the writer a general overview of the program, and the workbook gives him a series of assignments to take him from Step One to the final product. Then, the website provides exclusive content, advice and additional resources to help him accomplish each assignment."
The program may well be the first of its kind to be offered nationwide, and it comes with an impressive guarantee. Emcie Media guarantees that if a writer finishes every step in the program, and completes every assignment, he or she will have a book in the end. "We can guarantee it," says Carlson, "because we know it works. I've used it myself, and I've already published two books."
Carlson is especially passionate about helping young writers get their first books written and published, and is working with students in their local schools to accomplish that dream. There are two distinct groups of students that she focuses on with her program. The first group consists of students who plan to compete for admission in some of the nations most competitive colleges. Carlson says, "Adding the words 'Published Author' to that application packet can help a student really stand out from the crowd, and it shows the admissions office that this student has the skills that will be necessary for success in their school."
The second group that Carlson is working to help consists of student who are struggling with self esteem or socialization issues, some of whom may even be victims of abuse. "Imagine," says Carlson, "what it could mean to a kid like that to see his own book for sale on Amazon. It can be a real game changer for those kids."
Further information about the program is now available on the Write-My-Book website at http://www.write-my-book.com.
About Marianne Carlson
Marianne is a leader in helping businesses and professionals strategically plan and implement change and transcend difficult corporate transitions. She the author of Ten-Fold Marketing: Growing Your Business by Growing Your Heart, and is also an accomplished speaker and corporate trainer. When change presents problems, Marianne presents solutions. Find out more at http://emcie.com/mariannecarlson/.