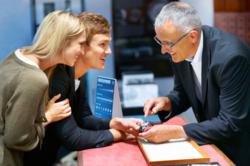 Before entering a jewelry store, be educated on the basics.
Adrian, MI (PRWEB) January 30, 2013
Most people appreciate jewelry, but shopping for expensive pieces at a jewelry store comes with unique challenges. Here are some tips, from International Diamond, to make the experience more enjoyable, and less stressful.
1. Define the Piece of Jewelry Desired. It is important to know this before purchasing jewelry, to avoid overly expensive, or trendy, or that don't suit one's lifestyle or taste. Do a little research online, browse through catalogs and image galleries. Bookmark appealing pieces that are appealing, practical, and within budget. Compare pieces that are interesting to notice similarities between them. In this way, the piece of jewelry is clearly defined, making the selection process much easier.
Considerations when purchasing jewelry:
A) Type: What type of jewelry will be purchased? Will this be an every day piece, or one for special occasions? Is this a statement piece? Before purchasing, know the role of the jewelry piece, as this can affect budget, style, and materials.
B) Budget: Establish a budget prior to purchase, to avoid hasty decisions or regret. Ensure the budget is reasonable and affordable.
C ) Style: Compare style, fit, material, finish, etc. to ensure the piece reflects personal style, as well as fits lifestyle and budget.
D) Size: Size is not only important when purchasing rings, but also for bracelets, necklaces, and earrings. Fit is important because it affects how a piece looks, and feels, on an individual. Something that is appropriately fitted will look infinitely better than something that is loose or tight.
2. Learn the Basics. Before entering a jewelry store, be educated on the basics. Understanding a few common terms increases knowledge and confidence. Don't worry about knowing everything; being familiar with basic terms is a great place to start.
Terms to Know
Hallmark: Precious metals, like gold, will have a mark stamped on it, to certify its purity. This is called a hallmark.
The Four C's: This refers to the four C's, or grading scales, used to assess the value of a diamond. They refer to Color, Carat, Clarity, and Cut.
3. Find a Reputable Jeweler & Jewelry Store. As with most everything, there are jewelers who are reputable, and there are those who are not. Reference the list of certified jewelers at the American Gem Society, seek advice from trustworthy sources, check the BBB rating of the store, and inquire about complaints. Always ask questions and get references from the jeweler himself. Before a purchase is made, question the policy on refunds, returns, and warranties.
International Diamond is located in Adrian, Michigan, and sells stunning jewelry designs from top designers in the industry. Visit the showroom today, to discover brilliant, breath-taking jewelry. International Diamond also offers repairs, appraisals, and pays top dollar for precious metals.