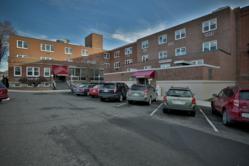 Medical space, particularly accredited hospitals, is difficult to locate in Massachusetts, which is why we are delighted be working on behalf of Mid-America properties.
Wakefield, Massachusetts (PRWEB) January 31, 2013
MANSARD has been exclusively retained to market 14 Chestnut Place; a 75,000 +/- SF accredited Massachusetts hospital located in just 70 miles west of Boston, .88 miles from the MassPike (90), and 7.2 miles from the I-91/90 interchange.
The property is 93% leased to HealthSouth through the end of 2013 and has a 5,000 SF vacant dialysis center. The property is being offered for lease, joint venture redevelopment or sale, free and clear of any financing, allowing investors to take advantage of today's attractive debt markets to deploy capital.
According to MANSARD President Jeremy Cyrier, CCIM, "14 Chestnut Place is a unique opportunity for healthcare providers, developers, and senior care servicers to participate in the vibrant medical office market in Massachusetts."
14 Chestnut Place is an attractive opportunity for medical providers seeking to maximize operational value in the central and western Massachusetts markets as well as for re-use as a senior health services or acute care facility.
The property is located 6.5 miles east of Springfield, which is home to the Baystate Medical Center's new $296 Million, 641,000 SF clinical facility housing state-of-the-art vascular and heart care center.
As an integral part of the central and western Massachusetts medical sector, the property was initially developed by local mill operators for their workers in 1909. In 1947 the original building was replaced by a new hospital, with an addition built in 1967 followed by another addition in 1967. In 1976, the 1947 section was razed and replaced.
In 2012, the facility passed the Hospital Joint Commission Accreditation and the State of Massachusetts CMS inspections. 
About MANSARD
MANSARD is headquartered in Wakefield, Massachusetts and is a provider of insight driven commercial real estate services that deliver maximum value to owners and users of commercial real estate. MANSARD provides asset advisory services such as feasibility, highest and best use, market study, geospatial analysis, and financial reports as well as transactional solutions such as leasing and sale of office, retail, industrial, and multifamily properties.