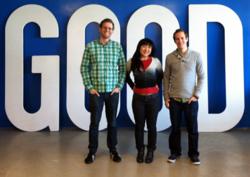 Learn. Submit. Get Hired.
Los Angeles, CA (PRWEB) January 30, 2013
GOOD Worldwide, LLC, and Apollo Group, Inc. (NASDAQ: APOL) have selected Brian Bonus as the winner of the Coding for GOOD job search. GOOD and Apollo Group believe that developing skills is a necessary part of a successful hiring process. After offering a free online curriculum that included 16 interactive lessons on the basics of programming, interested candidates submitted a project to show off their new skills and apply for a full time development job at GOOD. This past weekend, the top three finalists were flown to the GOOD offices in Los Angeles and competed in the Google YouTube Hack-A-Thon where they were placed in groups with experienced developers and GOOD staff to create apps with the new YouTube API.
Though fellow finalists Ada Ng, of Brooklyn, New York, and Corey Speisman, of Arlington, Virginia, showed enthusiasm and expansive knowledge for their newly learned craft, Brian Bonus was chosen after spending this past weekend hacking with the GOOD team at the Google YouTube Hack-A-Thon.
Bonus wowed the GOOD staff with his submission project: a digital memory card game that utilizes Instagram photos. He had enrolled in an Udacity class in mid-2012 to learn the basics of Python, a programming language, and even taught himself Java. Coding for GOOD motivated him to continue on his personal path of learning the basics of software engineering, and he took the Coding for GOOD curriculum during his holiday break in order to submit his winning entry.
Over the weekend, Bonus played a key part for the GOOD team at the Google YouTube Video Hack-A-Thon. Together in a team of five, he helped develop an ed-tech app with the YouTube API and Google TV that allows teachers to test their students during video lessons and get real-time results on students' understanding of the curriculum. He and his team took home the prize for "Best Teamwork." It was his ability to collaborate and his passion for making a difference in the education sector that ultimately earned him the job on the GOOD development team.
Before earning this new job at GOOD, Bonus was a junior television editor in Los Angeles.
"I've had so many great experiences; it's been a blast over all. The spirit of collaboration at this Hack-A-Thon was unlike anything I've ever experienced in my professional or personal life. There's something really electric about a bunch of people coming together to come up with cool ideas and then actually executing them in a really short period of time. That's such an amazing environment to be in. I look forward to doing more of these in the future."
"Coding for GOOD has been an amazing opportunity to bridge the skills gap and despite a bad job market has validated all the hard work that went into my learning and growing as a programmer and now as a GOOD employee," said Bonus after being awarded an opportunity at a full time job at the GOOD headquarters Monday afternoon. The entire GOOD office, including GOOD's CTO himself, was on hand to welcome him, cheer his success and even show him his new desk.
"In a time where the greatest barrier to securing a new job is the lack of necessary education, we wanted to find the best candidate without such a restriction. Working with Apollo Group to provide training and then determine the best candidate based on their work product and not on their resume has justified our investment in education as a component of a successful hiring process. Not only were we able to find a great addition to the team, we were able to equip other talented candidates with skills they can carry forward to secure another job. The Google YouTube Hack-A-Thon was the perfect environment to cultivate and motivate new developers," explained Ben Goldhirsh, co founder and CEO of GOOD.
"This competition enabled candidates to showcase their skills in a way a resume never could. Hiring models like Coding for GOOD shows us that we need to look beyond traditional models of education and hiring," said Rob Wrubel, Chief Innovation Officer of Apollo Group.
Interested in hearing more about Coding for GOOD or the Winner visit http://www.good.is/codingforgood.
For more background on Coding for GOOD, please view the original press release here.