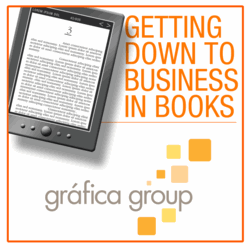 Morristown, N.J. (PRWEB) January 29, 2013
GráficaGroup – a results-driven, New Jersey-based, multichannel marketing and advertising agency that uses innovative thinking to help businesses forge and retain lasting and profitable customer relationships – announced today that it will be writing a monthly book column for The Alternative Press.
Titled "Between the Covers: Getting Down to Business in Books," the column will be written by rotating staff members and posted at thealternativepress.com/columns on the 15th of each month. While some of the featured books will be related to marketing and business, selections will vary based on each writer's preferences and personality.
"To stay up to date on current industry trends and break out of our normal routine, we thought it would be fun and engaging to incorporate our love of reading and our love of advertising into a monthly column. While giving our book review, we will also include our industry insights and opinions," said Debra Taeschler, president and CEO of GráficaGroup.
Kicking off the first of the 12-month series is a review written by GráficaGroup's co-founder and vice president of creative, John Puglionisi. In writing about The Laws of Simplicity: Design, Technology, Business Life by John Maeda, Puglionisi gives a quick read about the book's tips for simplifying your professional and personal life. The reviewer states: "This is not a geek's handbook. It is a series of relatable essays that can help one stay afloat and navigate the oceans of information, technology, and input that inundate society today." The entire review is available online.
Each column will bring new business and advertising trends and insights, as well as a chance to get to know GráficaGroup's staff members a little better through their words. In February, account supervisor Julie Williams will review the New York Times Bestseller The Power of Habit: Why We Do What We Do in Life and Business by Charles Duhigg. We can't wait to find out!
About GráficaGroup
Celebrating 27 years in business, GráficaGroup is an award-winning, results-driven, multi-channel agency that enables businesses to establish and nurture lasting, meaningful relationships with their customers across all categories. Clients include Fortune 500 and mid-sized B2B and B2C companies such as AT&T, Avaya, Century 21 Real Estate LLC, Horizon Blue Cross Blue Shield of New Jersey, Jackson Hewitt Tax Service, KPMG LLP, Morgan Stanley, PSE&G, Summit Medical Group, Trane, Weichert, Realtors, and Wells Fargo Home Mortgage – as well as public sector and not-for-profit organizations. For more information, visit http://www.grafica.com.
###
Contact: Adrianna Taeschler
Phone: 973-309-7522
Email: ataeschler(at)grafica(dot)com