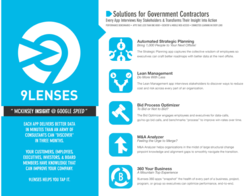 We developed our 'GovCon' suite so executives can leverage the knowledge that's already in their company to mitigate risk, and improve win-rates.
Washington, D.C. (PRWEB) January 30, 2013
9Lenses announced the release of five landmark crowd-sourcing applications to reduce the uncertainty faced by government contractors.
"Federal service providers face uncertainty on nearly every front. Budgets are uncertain, contract renewals are up in the air, and regulatory modifications are making it increasingly difficult to decide how to invest scarce resources," notes Edwin Miller, 4 time-CEO and Founder of 9Lenses. "Contractors trying to win more bids with fewer resources, and that's placing a lot of strain on the C-suite's strategic abilities. I wanted to help, so we developed our 'GovCon' suite which allows executives to leverage the knowledge that's already in their company to mitigate risk, and improve win-rates."
Every app reduces uncertainty by linking executives to insight from stakeholders across every part of their company. Here are the apps:

9Lenses has a fast growing customer set in the government community, including Raytheon, HP, Knowledge Consulting Group, a.i. Solutions, OnPoint, MSTI, XL Associates, Micropact, Centuria, Chilliad, and Navanti. All of these companies are using 9Lenses apps to create a quantitative approach for driving clarity, collective learning, and alignment in their companies.
In 2012, Raytheon used 9Lenses apps to engage their stakeholders in a strategic dialogue. They identified over 19 knowledge gaps, misalignments, and operational challenges. Lisa Brown, the President of Raytheon Trusted Computer Solutions, felt that "9Lenses provided great clarity into the business. It cut through the labyrinth of management and strategy theories that leaders are constantly trying to adapt to their organizations and really pinpointed the areas where focus was needed."
After running several apps, Raytheon decided to partner with 9Lenses to develop an operational playbook using Six Sigma Lean Management principles. Division COO John Graves wanted to see if his crowd could find ways to reduce expenses and streamline processes.
Crowd sourcing business strategy was new to John, but when asked about the experience he replied, "I am enthralled with the approach 9Lenses takes to focus "process improvement" initiatives and eager to gain greater insight into the analytical underpinnings of the cloud platform. I look forward to a rewarding partnership and broadening the 9L's "sphere of influence" across Raytheon."
William J. Weber, the President and COO of XL Associates, offered similar feedback when asked about his experience with 9Lenses' government contracting solutions.
"As XL Associates and ALON Inc. began to merge, I sought out an enterprise management platform capable of revealing and synthesizing each organization's strengths. I wanted to move toward harmony and stave off the confusion that so often accompanies large acquisitions. 9Lenses provided insight beyond my wildest expectation. It's like E-Discovery for people's knowledge instead of documents. With 9Lenses, it's easy to conduct internal assessments and business intelligence studies inside one platform, and the analytics made my data insightful and immediately actionable. Any company in the government services sector who wants to keep their edge and avoid falling into the "just another contractor" syndrome should consider 9Lenses' apps."